Tassie tearaway's fast getaway: Marcos Ambrose interview
Michael Shaw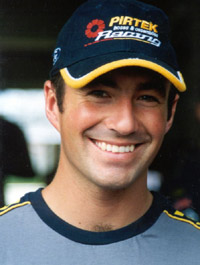 Pic: Michael Shaw

What do Jenson Button, Kimi Raikkonen, Scott Dixon and James Courtney all have in common? Journeyman Marcos Ambrose has defeated them all. Add to that list the likes of Lowndes, Skaife, Radisich and a stack of other respected names now that Ambrose has stamped his indelible mark on V8 Supercar racing. It puts him in a class all his own.

Michael Shaw talked to the forthright Stone Brothers rookie in Canberra a month ago about his attention-grabbing start to the year and the challenges that lie ahead.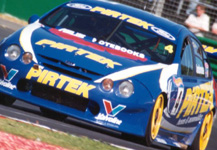 Ambrose's pole at Albert Park was written off as a fluke, but seven more top-6 qualifying performances put that one to bed very quickly. Pic: Michael Shaw

Michael Shaw: You've done extremely well straight away; pole at the GP, pole at Phillip Island and your win at Hidden Valley. Did you expect to be so on the pace straight away?

Marcos Ambrose: No I didn't. I thought it might have taken some time. Just saying that, I work hard at it. It's not a 'turn up and have a go' exercise, there's a lot of preparation involved. And I must be doing a good job of it because when I come here I'm prepared, I know what I have to do and I try and do it. You know, 2002 is going to be much easier for me because I can use the databank from this year when I turn up next year. It's only going to get easier for me, but I've done well, better than I thought.

MS: Your initial impressions of the series; are they what you expected?

MA: Yeah, it's a tough championship, the top 15 guys are very good. Maybe even a little further back than that, but top ten are race winners. It's as tough as any series in the world for the budget and the types of cars we have. Sure, it's not DTM budget or British Touring Car budget, but it's all relative. We all have similar budgets, within reason.

MS: I'd say it's a relatively similar budget for what the country has...

MA: That's right. Bang for bucks. It's the perfect formula and that's why it's working.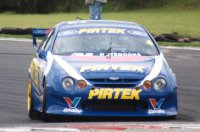 Pic: Michael Shaw

MS: Did you consider any other series overseas before coming here?

MA: Yeah, I went across and had a look at the (United) States. Took a look at Toyota Atlantic (and) Indy Lights. I did a test for Indy Lights, made some good contacts for Atlantic to try to break into IndyCar, but I went across there and it didn't do anything for me. It's just...I think both series are pretty crap.

"I need to enjoy my racing first of all. It's most important."

MS: Well they seem to be this year, anyway...

MA: Yeah, the Toyota Atlantic engine is underpowered to F3 and the budget is twice as much, so what's the story? The cars are half as good, so it's not good. It wasn't my thing and I went across there to Toronto for the IndyCars and it didn't do anything for me so I knocked it on the head and said, 'that's not for me.' I need to enjoy my racing first of all. It's most important.

MS: How difficult was it to adapt to, essentially, a big heavy touring car from an open wheeler?

MA: It wasn't as hard as what I thought. Let's face it, we're running top five everywhere we go and I've adapted very well. I feel very comfortable; got a great bunch of guys. It's history now, I'm not a single seater driver any more, I've changed my style a bit to suit these big cars and that's really it.

MS: How much competition is there between you and David Besnard?

MA: Yeah, there is competition there but we try to work together as best we can. There's always going to be competition inside a team. There's three steps on a weekend: the first step is to beat your team-mate, the second is to be the first Ford home, the third step is to win overall. You know, it's first in the pecking order.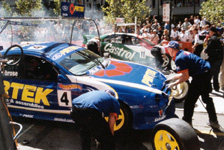 Ambrose has asked the Stone Brothers crew the hard questions this year, and they've responded in the affirmative.
Pic: Michael Shaw

MS: What do you think of the professionalism of Stone Brothers Racing?

MA: Yeah, great bunch of guys, they've really ramped up this year to suit. I've been quite demanding in what I've asked for and in the way I work and they've more than matched it so great bunch of guys and deserve all the success they get.

MS: With Eastern Creek Raceway, where you got the supposed equivalent of a stop/go penalty, were you disappointed with the penalty?

MA: Yeah, you know it's racing as far as I'm concerned. The guy was holding me up for three laps. The way I race is one, two, three and I'll send you. You block me three laps in a row and the fourth time I made room, I didn't push him off the circuit or anything like that, I just made room and I did pull away. But if the officials deem that to be unjust or unfair or against the rules, I won't do it again. It's very simple, it's just changing my style to suit the conditions.

MS: Do you think it is fair considering that in Adelaide, they let Paul Radisich get away with hitting Skaife?

MA: Well yeah, I think the only factor here we should have any debate on is how are they are policing these rules they are making up. And they can't do that adequately as there is only one camera on the circuit to catch all the action and so someone that's getting biffed off at 17th or 18th can have something bad happen to him, not in front of the TV, and they can't do anything about it. I believe they should have cameras in every car, TEGA controlled cameras, and if they want to pull the video off, they take a look at it and make a decision. It's very, very cut and dried.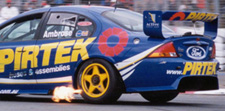 Pic: Michael Shaw

MS: You've started quite well this year, been in the top six for qualifying every race. What are your championship aspirations for this year?

MA: This weekend has sort of (ruined) that. This is a big points-scoring race; we're not going to score many from here. It's going to be uphill all the way, but you know I'm not thinking about the championship, just taking it race by race. It's a learning year for me. I drive hard everywhere I go and there's going to be mistakes and mishaps and we just keep going.

MS: What are you planning for next year?

MA: To win the championship. This year is a learning year, taking it step by step, but hopefully by the end of this year, we'll be coming right on form and have a real shot at taking the title. We're pretty fast everywhere we've been. We can start from where we finish off this year and have a good crack at it.

MS: What are your aspirations for past that?

MA: I'm here in Australia for a while, for good really. I want to be V8 champion down here, however long it takes.