Change For The Betta?
Sapient



A wise little bloke who lived in far away China hundreds years before the birth of Peter Brock (some would say Australia's very own Confucius) once said, "Only the wisest and stupidest of men never change." When the V8 Supercars fraternity roll out their toys in March, there will be at least 14 name changes, on the side windows, from last year.

As with most sports, change can be an enemy or a saviour. This time next year, those of us skilled in hindsight will have the opportunity to sit and say, "I knew he should have stayed where he was." So why change at all, why not play it safe? Because change could rescue a career, or put a championship-winning car underneath you, or maybe even get you out of a team that just doesn't work for you. In short, changing teams could be either a really good idea or, with hindsight, a really bad one.

One of the largest scale changes for 2005 is the relocation of the rising Tasman Motorsport, from Sydney to Melbourne. The core personnel of Tasman Motorsport's 2004 staff will make the trek south to Melbourne; including highly experienced engineer Wally Storey. Jason Richards stays with the ever-improving team, and Jamie Whincup will join this year as the team launches its first-ever two-car attack. Additionally, Ron Harrop of Harrop Engineering has increased his stake in the team and takes over the engine development. What you are watching here is a race team evolving from the Lansvale "out there to have a go" team, to Tasman - professional, result driven, and a possible future championship contender.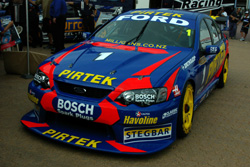 Driver movements make up the bulk of the changes this year, with half the field choosing to change their surroundings in the search for that Championship or Bathurst title. With so many teams presenting such new public faces the less well informed fan may just find themselves struggling to comprehend what's going on as the field rolls out at Albert Park.

Calling this their new dawn, FPR move forward with two new drivers. Jason Bright, defecting from Holden and PWR, is to take Craig Lowndes' seat at the improved Ford factory team. This is the sort of change that could work with spectacular results, or come Round 9 or 10 this year, see pundits picking over the smoldering corpse of what seemed like a good idea at the time. Bright comes well-credentialed, and no one doubts Greg Ritter, who steps into Glenn Seton's Car 5, has abundant speed; but FPR have yet to take that last step as a team and see consistent results. Jason, by the way, is the last driver to win Bathurst in a Ford. Just thought you might like to hear this fact…..again!

And straight out of the worst-kept-secret file, somewhere in suburban Dandenong a new race team has taken shape. Bright's sweetener in his jump from Holden to Ford was Team Britek; he is expected to preside over his signing bonus in years to come, after the richly rewarding FPR contract expires. For now, two fresh young drivers in Matthew White and Steve Owen, will carry the hopes of the team, with Fujitsu the teams major backer. The team will be using ex-FPR BA Falcons, with former Conrodian and ex-Doulman Racing team member Adam Laws at the helm.

Brighty's old seat at PWR, newly renamed Super Cheap Auto Racing, is now filled by the fired up little Kiwi, Greg Murphy. This change cannot be understated, as its been a long time between changes for Murphy. For Murph, this could be a breath of fresh air, or he may find the new team doesn't fit quite like the old one used to.

For Kees Weel, owner of PWR, the sponsorship deal with Super Cheap was an ideal way to move the team forward. The move by Super Cheap Auto from a one car Ford team to a two car Holden team, shows they are obviously looking to increase their exposure. With naming rights for the ex-PWR team and as the naming right sponsor for the Bathurst 1000, this is a company that is clearly committed to V8 Supercars. "After the 2004 season finished, we decided we needed to be involved with a two-car team, and PWR Racing provides us with that opportunity," said Bob Thorn, public figurehead and Managing Director of Super Cheap…it's a match made in heaven.

Steve Ellery Racing (formerly Super Cheap Auto Racing) may go the way of dinosaurs and vinyl records. Steve is off to Triple Eight, and his dad Bruce has a race team but no real idea what the hell to do with it. It was the highest of highs and the lowest of lows for SER in 2004, culminating in a very public dummy spit with their long time sponsor at Indy. Currently, SER looks to be aiming at a V8 Development Series entry and have signed Mark Porter to steer for 2005.

Triple Eight racing sees some major changes ahead in 2005. Gone, unceremoniously, is Max Wilson and Paul Radisich, replaced by Ford poster boy Craig Lowndes, and as previously mentioned, Steve Ellery as his teammate. The average observer would have to say Triple Eight now has all its ducks in a row. With one of the series most respected race engineers in Campbell Little (ex-SBR), an engine program by SBR and two very speedy peddlers; this year the excuse book for non-podium finishes is running dry.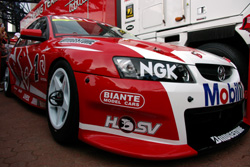 As for Lowndes, much has been written and said about his move, after two years with FPR, to Triple Eight. After all the discussion and debate is done, two things are very clear; first, Lowndes must be successful this year for the sake of Ford fans and Ford itself, and second, this move alone could prove to be either the smartest or the dumbest thing Lowndes has ever done. If FPR fire in his absence, and Triple Eight fail, the screaming and wailing from Ford Australia Motorsport Manager, Stephen Kruk, will be heard around the country, as another fairytale opportunity goes begging. If indeed Triple Eight do give Craig a weapon worthy of his unstoppable talent, the sound of ringing cash registers at Triple Eight merchandise trailers may just drown out the sobs of the very short Brazilian man crying in the corner.

Dick Johnson Racing undergoes some radical changes in '05 as well. Perhaps most intriguing to long time V8 Supercar fans was the news that former owner/driver Glenn Seton, would join the Gold Coast team. Just seeing "Seto" in the number 18 will be strange enough, but factoring in the loss of long-time naming rights sponsor Shell, it will be a very different DJR that rolls out at Albert Park in March; a completely new colour scheme (or is it the old Tru Blue scheme?) comes with new sponsor Westpoint. Seton has the ability to influence change at DJR, with his insightful technical command of a racecar, and constantly unruffled demeanour, there is a real chance that the odd couple of motorsport in Glenn and Dick, just might click.

Paul Morris is, not surprisingly, still driving for Paul Morris Motorsports. The team however has spent some big numbers on improving their technical ability, component, and engine development in the off-season. They've also added some highly regarded people including Alan Draper, who has spent time at prodigious teams such as DJR and Briggs, building power-plants with equally prodigious horsepower.

Team Kiwi trades one experienced and valuable countryman for another. Baird out, Radisich in. And in forming closer strategic and engineering alliance this year with Paul Morris Racing should see some rather large technical gains. The proudly Kiwi team has actually relocated from their NZ base to the PMM factory on the Gold Coast. This will, in theory, eliminate the single car disadvantage suffered for many seasons by cars 021 and 29. And speaking of car 29, don't go looking for it in 2005, Morris has changed number to 67, representing the year he was born, for no other reason than to hopefully bring some luck.

WPS Racing has captured journeyman Craig Baird, this year, to team with the long-suffering David Besnard. If Baird stays longer than Round 1, these two guys in the black and silver cars could be dark horses, with a blue stripe. While we may never see Alex Yoong again, the undeniable talent of Owen Kelly is back on the market, having joined the long list of drivers no longer employed by Craig Gore. WPS has poured vast amounts of money into V8 Supercars in recent times, and Besnard has shown the team has real potential. This season will see either the make or break of WPS Racing.

Garry Rogers Motorsport has had a subdued off-season, despite their need for a new driver. 2005 sees rookie Andrew Jones fill the seat of Garth Tander, a seven-year GRM veteran, who departs for a different part of the Holden family. This is a gutsy move by Jones, who has to date been part of the family business at BJR and Ford. Andrew, under the guidance of now lead driver Cam McConville, has a real chance to shine. And McConville now has a chance to build a team around him that knows how to win. With the ever hungry and passionate Garry Rogers at the helm, change at GRM could be just what the doctor ordered.

Garth Tander leaves the safety of GRM for the former Kmart Racing Team. While Kelly Racing, now HSV Dealer Team, has lost Kmart as principle sponsor, and lead driver Murphy, it retains speedy Rick Kelly and now has the "experienced beyond his years" Tander. You get the feeling that Tander's move will re-energize him and possibly those around him.

Team Dynamik would rather forget all about 2004, though they are far from through with its dramas. 2005 should be an absolute corker! Recent news that the appeal to the FIA, after last year's illegal testing fiasco, has been dropped means again they face a bleak start to the 2005 season.

Dale Brede is out of Team Dynamik after a disappointing 2004 and his replacement, Will Davison, is out to prove himself on home soil after a brief stint overseas, including a test with Minardi F1. Tony Longhurst has purchased one of the Dynamik Level 1 Licences from Keiron Wills. With a first-up drive at the Grand Prix, it is still unknown who will be preparing and driving Tony's new venture for the remainder of the season. It is expected that Dynamik will look after the car for at least 2005.

There still remain some pieces of puzzle to fall into place before the season 2005 celebrates its own existence with a dance around Adelaide's Victoria Park. What we do know is Alex Davison will drive a Perkins prepared Autobarn Commodore; and pretty quickly too judging by his all conquering Carrera Cup form.

And lastly when it comes to changes, Larry Perkins believes in leaving his to the last minute. Larry has regained his traditional number 11 for the future and TEGA has kindly given a wildcard entry to Steve Richards, which means he will be able to race at every round. Paul Dumbrell's situation is tenuous, with Perkins desperately seeking a way he can field two Castrol-clad Commodores this season. Though he will be out of the reduced grid races, along with Britek's Steve Owen.

It's also worth noting those who have not changed.

SBR remain as they were when they wrapped up a 1-2 finish in the championship at Eastern Creek. If stability wins championships, a three-peat is looking likely in 2005.

HRT's changes are all backroom moves, but could still become front-page news. Management scuffles and some long faces after a horrid 2004, by HRT standards, suggest this team, while retaining the same personnel, is looking for something to change so they don't repeat 2004. Of course, powers higher and wealthier than Mark Skaife are of the same mind and 2005 could see the return of Tom Walkinshaw to our shores as the captain of HRT. Trying, quite obviously, to set a direct and speedy course to recovery year for 2005, HRT announced their enduro line up before the season has even started. This kind of enthusiasm from such a formidable team as HRT is the work of a group of people who do not accept not winning.

Previously sponsored by OzEmail, Brad Jones Racing, often referred to as sentimental favourites, happily bound into 2005 effectively unchanged. Having finished as the second placed Ford team in 2004, BJR is hoping to be less sentimental and more successful in hauling in the gap between themselves and SBR. OzEmail, long time sponsor of the team, and V8's in general, end their relationship with BJR to concentrate on setting their floundering business afloat following the demise of parent company MCI. As that door closed another opened, BJR increasing its partnership with BOC; V8 Supercars welcomes another new naming rights sponsor to the sport.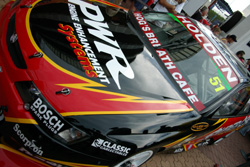 Larkham Motor Sport holds onto Bargs and Frosty for this season and, with good reason, have high hopes for its outcome. With SBR engines, they will go like rockets in a straight line. Its up to Mark Larkham and his engineers to get the cars to turn corners too.

On a slightly different key, you should note, Tony Cochrane has no plans to change his role, as the AVESCO the board "voted unanimously to re-elect founding Chairman Tony Cochrane to the preside over the sport for another three years." At the same time, "TEGA has unanimously reappointed General Manager Kelvin O'Reilly for a further three years." Both these gentlemen have a lot to do with the shape and colour of our sport. Is this lack of change a sign of stagnation or a simple matter of continuing to back a winning horse? Each and every fan will draw their own conclusions, but so far the results are hard to deny.

With so much change afoot, Season 2005 is promising to be an engaging and controversial year; one where heroes will be made, and villains will be cast. One thing that will not change is the one place online that will report and discuss everything you need to know about V8 Supercars. Conrod.com.au of course!