Junior comes of age: Steven Johnson interview
Michael Shaw

Unremarkable mid-pack runner one minute, lean, mean Ford fighting machine the next. Just when it seemed Steven Johnson would all but capitulate in the imposing shadows of his famous father, the 26-year-old silenced his critics with some inspired driving in the early rounds of this year - none better than his breakthrough Canberra win in June. Michael Shaw spoke with Johnson midway through his GMC 400 triumph on Saturday about racing - and winning - for his dad.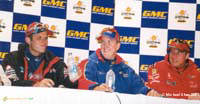 Pic: Michael Shaw

Michael Shaw: First of all, congratulations on your first race win.

Steven Johnson: Thank you

MS: And also the first pole position this morning.

SJ: Yes, it's been a good day for us, not only for the team but for myself. Hopefully a ground-breaking day that we can capitalise on from now on.

MS: Did you expect your first win to take so long?

SJ: Well, in the way of looking at it being long, I only raced last year, being the first year, and it's fairly tough to win a race. Marcos Ambrose hasn't won a race, he's won a round but he hasn't won a race, and Russell Ingall hasn't got a pole position yet, so I'm in fairly good company. But apart from that, I've been driving these cars for a while and really from '94 until the start of last year I was really only a temporary driver, I was only a second driver or a co-driver for the long distance races. But apart from that it's been longer than what I really wanted it to be. But it's good that it's happened now and I was really going to start wondering if I hadn't won any races this year at all. I'm looking forward to the rest of the year.

MS: At the media conference it was asked what the first thing Dick [Johnson] said to you, and at the time you hadn't spoken to him, so what was the first thing he said?

SJ: He just basically said 'congratulations.' He was fairly happy I think. I think it hasn't sunk in for him either, I think he's internally very ecstatic and I think that towards the end of tonight and tomorrow it will sink in a bit. He's probably more relieved than anything and I don't think him or mum could watch too much of the last five laps of that race.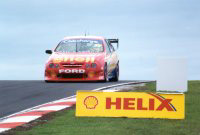 Pic: Michael Shaw

MS: Speaking of your mum, what did you think of her drive in Adelaide?

SJ: It was great! For someone of her age, she's no spring chicken, I don't think she'll mind me saying that, racing up against Natalie Lowndes and Tatiana who are half her age, she's just amazing. She's done a fantastic job and I think she really enjoyed herself. She knows what we go through now.

MS: You started co-driving in long distance races and occasionally at Oran Park. Any particular reason why it took so long to get a full time ride?

SJ: Well, a lot of people would (think) that I got the drive because I was the boss's son and all that. We didn't have the funds. Everyone probably thinks that I'm rich, my dad's rich and everyone's rich. I can certainly tell you that that's not the case. It's a matter of circumstance and I was just in the wrong places at the wrong time. We didn't have the money - well he didn't have the money for me to go Formula Ford racing or anything like that. I bought my first proper race car out of my own money. He helped me obviously, and then I ran it. I had my best mate, who was mechanic on it, and we did all the work on it ourselves and we towed it to the race track behind an old van that hardly went. It's really the way that we started. I wouldn't give any of that back for a second. A lot of these kids these days, their parents have obviously got too much money and they just throw them in and half of them are no good.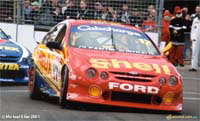 Pic: Michael Shaw

MS: I wish my parents had that much money... (doesn't everybody? - Ed)

SJ: Yeah, I wish my dad had the money to put me through early too. You can pretty much call me a veteran now because my first full time year was when I was 24. And when you get people like Todd Kelly and all these guys that are quite young... Craig Lowndes started early, I actually started before him, but he'd won two or three championships before I'd even jumped in the car to race full-time. That's a hard pill to swallow but I'm going to make the most of what I've got now and hopefully run with it and show a few people what the Johnson name and Shell Helix Racing can still do.

MS: How hard did you try to get a run in V8 Supercars, once you had proven your talent, essentially not at DJR?

SJ: Very hard. I was very close to driving for one of the other works teams in the championship. That was down to myself and one other young fella, who's still racing now. And really that was very close. There've been quite a few occasions when I've been very close to getting a drive in another team and just for some circumstances, for some reason, wasn't able to do it and it turned out that DJR had a position available at the start of last year. I was offered that position on the proviso of some results and see what would happen. We had some good results and some bad results and I'm sure that if my performance didn't turn at Sandown where it did... Sandown, Indy and Bathurst were all very good for us. I was a lot quicker, on the pace, it showed a lot of promise. If it wasn't for those three races, who knows where I'd be now. It's great that they had the faith and the confidence in me that I can do the job to keep me on for this year. I'm really trying hard to give them results and they're coming. Slowly but surely, they're coming.

"...if my performance didn't turn at Sandown... who knows where I'd be now"

MS: How much did your performance towards the end of the year motivate you to improve your fitness?

SJ: This place here, Canberra, was the turning point for me. After the third in the reverse grid race last year, I thought I like being up on the podium. I'd been there before but in TraNZam and other categories I'd been in, whereas second podium in V8 Supercar... I was very happy. I decided there and then that I'd give myself a fair shot, start training, going into the workshop just about every day, and really trying to get that hunger back that I'd lost at the start of the year and that's back with a vengeance now. This year has certainly been, from the end of last year, a different Steve Johnson to what everybody else has seen and hopefully we can build on that and I can build myself up to be better and stronger for the future.

MS: How are you looking for the championship this year?

SJ: I think that we're looking very good for a very high result in the championship. I hate to turn around and say, 'we're going to win it for sure.' It's very hard, anything can happen. Mechanical failures, accidents...

MS: You can have a round like Hidden Valley....

SJ: That's right. You can have a disastrous round (like) Hidden Valley. I've made some personal (goals) that I want to have by the end of the year, and included in that is a certain position in the championship - and that's quite high up. The way that it's going, if I can keep on a roll and I can keep pushing and we can keep developing the car and try to get the best out of it through some of the tracks we don't do so well at... We don't know who's going to be with whom yet (for the endurance races) but presuming Paul and I could be together in the long distance races, I think we're going to be a fairly tough combination to beat.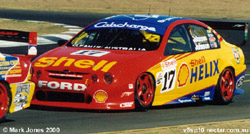 Pic: Mark Alan Jones

MS: You've driven Bathurst with your dad, how does that compare to driving with anyone else. Is it different?

SJ: Not really, no. We've got a great relationship and we're probably as good a mates as anybody. So really we tried to work together, which we did. We found a good car set-up and we were quite quick. It's a little bit of a shame, I was a bit sad when he did retire. Obviously it did give me the opportunity to drive but having said that I really enjoyed driving with him. It was probably one of the highlights of my career coming in fourth even though we did have a problem through the race and had to come back through. It was good to give him a reasonable send-off at the end. I don't think our relationship has grown any because I think it was always strong to begin with. So that was very satisfying for me and I'm really glad that I had the opportunity to do that before he retired, not for my CV but for my personal satisfaction and something that I can say that I've done.

MS: Finally, where are you looking to go from here? Not just next year, for the championship, but beyond that.

SJ: Beyond that, I really think that I'd love to head over to America. I'd love to head over and try my hand at the Busch Grand National Series and then (the) NASCAR series. You can't dive straight into the one, so I'd really like to try my hand at some NASCAR racing. But apart from that I'd like to do some Sports Car racing, whether it be the Panoz or something like that. I'd like to do the Nurburgring and the Le Mans 24hr race. There's quite a few things that I'd like to do. But that's in the future planning. At the moment I'm just thinking about one thing - winning this championship is my main priority.