Musical Chairs
the silliest V8 off-season yet
Jason Whittaker

It all began many months ago, V8 Superstars circling the paddock in uneasy merriment. Then the music stoped.

Many retained their original seats. Some chose a different seat, or were forced to do so. Others failed to find a seat, and were left out of the game altogether. It was said to be amicable, yet often bitter, sometimes bitchy, and always enthralling.

With the jostling for seats now all but over, a relative calm has descended on the Supercar paddock. It's now time for a driver stocktake and review a silly season that was, undeniably, the silliest on record.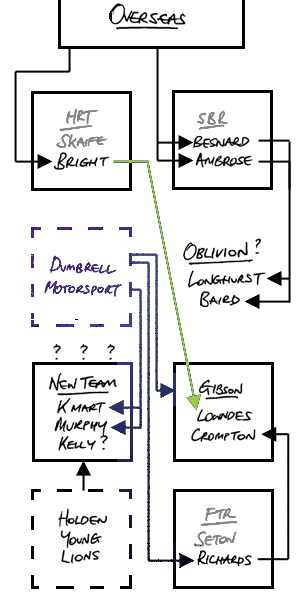 You would think that Lowndes' move to Ford has been at the center of the musical chair action (green line), but our musical chair diagram shows, most of the movement came from the remnants of the Dumbrell/Kmart operation (in blue). This will especially be the case if as rumored a Murphy/HRT Satellite/Kmart operation is setup.

Most agree the F1-style hatching, matching and dispatching seen over the summer was long overdue. Manufacturer loyalty that has been inherent in the dual-make category since its inception - and, indeed, since the very early days of Australian racing - was put to one side as drivers (among others) searched for better deals, regardless of the badge on the car.

Long-serving Castrol Perkins man Russell Ingall applauds the bravado of some that made the switch, and says there should be more like them.

"It's about time. There's not enough movement in V8 Supercars. It should be like it is in F1," Ingall told the Austrlaian Grand Prix Web Site last week.

"Things have changed a lot from the Brock-Johnson days, when a driver-manufacturer relationship was like a marriage that couldn't be broken up."

"That's what stops the majority of drivers from moving, they're worried about how they will be perceived by the public for changing camps. I think this move of Craig's (Lowndes) will help, when they realise it's no big deal," he said.

No big deal for some perhaps, but the public backlash from many off-season parting of ways is yet to be felt to the full extent. Most fans were thrilled to see some movement through the summer - that is, until their favourite driver was doing the moving.

While the 2001 pre-season drafting period involved a myriad of players, most of the attention was centred on just one - Motorsport's self-made celebrity, Craig Lowndes.

Many predicted Lowndes would switch to Ford (his growing resentment towards Holden and HRT was hardly subtle) and some even reported possible links with Gibson. But the assembled media at a Ford-convened press conference early in the New Year were left breathless with the announcement Lowndes would drive for Gibson, under the Ford banner.

It was a coup that had General Geoff Polites beaming, declaring the beleaguered Ford camp was making a comeback of monumental proportions. Few could argue, given the arsenal now at Ford's disposal and their concerted effort to improve their standings on the track (and in the showroom).

But the Lowndes saga, played out through the media (read: tabloid) for far-too-long a period, was a bitter pill for all to swallow.

A feeling of betrayal swept through the Holden Racing Team's Melbourne bunker, and led to Lowndes/HRT relations reaching an all-time low. Lowndes' cancelled drive with the Panoz outfit in Adelaide, and continuing legal threats regarding his unfulfilled TWR management contract ensured the split was and remains a bitter one.

Just this week, Lowndes - who's been criticised by many for not revealing the impetus behind his defection - issued a statement to his fans, describing HRT as having, "little flexibility and too many restrictions for us to swallow." His on-track battle with HRT this year, fuelled by a messy divorce after months of discontentment, should be intense.

Many of Holden's followers are still in a state of mourning, while others are baying for his blood. Generally, Ford's forlorn faithful have welcomed Lowndes with open arms, but some will ensure he remains an outcast, for now at least.

Lowndes appears resolute. "Hopefully the fans will understand the decision that I've made is one that's right for my future," he said recently. "I'm sure there will be some disappointed people but on the other side of the coin there will be some excited people."

Meanwhile, Neil Crompton last week signed with Ford's latest superteam, and will partner Lowndes in the endurance events later in the year.

Crompton was replaced at Ford-Tickford Racing by another high-profile renegade in Kiwi Steven Richards. While the impact of Richards' defection was dwarfed in the wake of the Lowndes furore, the news of another of Holden's heroes sleeping with the enemy was significant.

Richards, a victim of Gibson's impulsive buy-back, was snatched from Holden's grasp at the eleventh-hour by Glenn Seton to replace Crompton as co-pilot.

Favourites for the seat Cameron McLean and Dean Canto were crying foul, claiming the job was all but theirs. Both now seem content to run their own cars in this year's series.

The Holden Racing Team was quick to rebut the costly loss of Lowndes, signing insolvent Indy adventurer Jason Bright late last year. Most agree the factory Holden attack loses little with the signing of the talented journeyman.

While Bright is no stranger to a Commodore, his recent V8 history is closely associated with Ford. Many believed Bright would renew his links with the Blue Oval should his Indy dream disintegrate, but after failing to find the money needed to continue his single-seater aspirations, Bright declared: "the HRT drive was the only one I'd come back for."

Greg Murphy, another casualty of Fred Gibson's backdoor Ford deal, may yet find a home with his previous employer, HRT. Murphy was present at HRT's glitzy launch through the week and, although he wasn't saying much, is expected to announce a new K-Mart-backed HRT satellite campaign in the next week.

Up north, the Stone Brothers ceremoniously dumped freshman Craig Baird and veteran Tony Longhurst from their squad, opting for two drivers who, at the time, had never driven a V8 Supercar. The team made no secret of their disgruntlement of Baird and Longhurst, or of their commitment to a driver clean out.

David Besnard - snapped up by SBR on a long-term deal mid last year - has since thoroughly impressed in the Lites class and endurance races, while the reputation of the team's other recruit, Marcos Ambrose, precedes him. Both, particularly Ambrose, left promising overseas careers behind in favour of the Stone Brothers proposal - a significant coup for Australia's Supercar formula.

Tony Longhurst refuses to be forced into Motorsport's semi-retirement home, and may yet find a full-time seat for the 2001 season. Legal action against his enforced SBR layoff could be pending - perhaps, setting a dangerous precedent given the long list of those made redundant over the summer.

And that's just those that made the back pages.

For now at least, the 2001 V8 Supercar grid looks largely settled. All fans can hope is that the action on the track will be as absorbing as that which occurred off it.