Shock: Tony Cochrane admits error!
Shane Rogers

I was witness to a truly rare event in the history of motorsport at Sandown last weekend. I know you're not going to believe this, but I saw an administrator admit he made a mistake. Not just any administrator either, but the big Kahuna, Tony Cochrane of AVESCO.

Cochrane's mistake, was to name the second level V8Supercar series "V8Lites", simple because that's what CART do, and if that's what CART does it must be right as they have 42 different drivers who have won races this year which is great. Cochrane said: "Some marketing idiot came up with that one… we've taken him out the back and shot him".

Of course, CART call their series the FedEx Championship Series, but isn't that because the cars called Champ(ionship) cars?

At the launch of the 2001 Shell Championship Series (for V8Supercars, not Champ cars), and the newly named Konica V8Supercar Series, there we're a few surprises, but in general it was as expected in terms of calendar, venues, and race format. The headlines including expansion into Kiwi country, longer races, and more TV time.

This is the start of a new era for V8Supercars, after the "stabilisation" phase post-AVESCO takeover. The new phase is one of expansion, with overseas races taking Australian touring car racing to markets that it has not been to previously.

Unfortunately, some Australians will miss out as a result. Tasmania is officially dead as a V8 venue, even for the Konica series, unless somebody has a briefcase stacked full of unmarked 100-dollar bills in the Island State.

Lucky too is Western Australia, for it was only for the fabulous efforts of the Western Australian Sporting Car Club, Shell, and the assistance of the WA state government, which has kept Barbagallo on the schedule for one more year. Cochrane sent a warning to the WA government in no uncertain terms: This deal was only to "buy other year" of negotiation, and if there's no Perth street race in 2002, then there's no race in Western Australia.

Mind you, Tony wouldn't mind if a few Australian racetracks just fell off the end of the earth. With the teams wanting no more than the current total of 15 events on the schedule, and Asia a virtual certainty for 2002, there are some tough decisions to be made at Southport in the near future.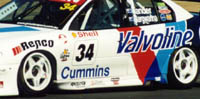 Garth Tander will be happy... the winner of
every qualifying shootout so far this year
will have an extra 9 goes at it next year.
Pic: Mark Alan Jones

Interesting too is the new race format. The base format is now 2 x 100km races, with a compulsory tyre change in each. Each race will have a top 10 shootout, except for Albert Park. The shootout will be expanded to 15 for the big four races: Adelaide, Canberra, the Queensland 500, and Bathurst.

The new format, according to AVESCO CEO Wayne Cattach, has been designed to create "varying race outcomes without changing the concept of the best team win".

The dreaded by small teams 32-car grid is in, but it's not the 16 x two-car team closed shop as feared. 25 cars will qualify for each race automatically on the back of the current championship points standing, with the other seven spots being determined by pre-qualifying.

TV coverage has been expanded, with three hours on a Sunday when the two x 100km races are run. The challenge for Network Ten will be relaying the excitement of a compulsory pit stop race to the viewers. Ten's coverage of Phillip Island earlier this year (which has a similar format to the new base format for next year) was average at best in this respect. Canberra was better, but there's still lots of work to do. There is no doubt that more resources will need to be provided by the network to adequately cover the series in 2001.

Apart from Tony's catastrophic error mentioned earlier in the piece, the Konica V8Supercar Series also changes in 2001, with six races, including a new race at Wakefield Park. There will also be a special non-championship race on the FAI 1000 weekend at Bathurst for those Konica Series races that don't make it to the final 48 grid at Bathurst.

Oh, and while on the subject: Bathurst's in October now, not the long weekend like you wanted it, but it's being positioned for it in 2002, when there will be no NRL or AFL Grand Final on the same weekend.

All-in-all, a good series calender, most of us got what we wanted, longer races, which will bring different outcomes, October Bathurst, more TV, etc. I suppose we can excuse you for your mistake Tony, after all as you said at the calendar launch, nobody's perfect, except for Michael Knight.

Opinions expressed on v8sp10.nectar.com.au do not necessarily represent the opinions of the V8Supercar Pick 10 project or its contributors.