Indy Interview Series - Part 1 - Craig Lowndes
Michael Shaw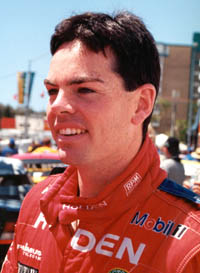 Pic: Michael Shaw


Michael Shaw was at the Honda Indy 300 in October, and while there, caught up with many V8Supercar drivers there for the FAI Insurance Challenge. His first interview, was with the three time Shell Series champion, Craig Lowndes.

Michael Shaw: You've had a reasonably good year at least this year, how much pressure has there been to win the championship, since the last three (V8Supercar) championships you've been in, you've won?

Craig Lowndes: I guess there's always pressure on every year. We love to win every race, but I guess unfortunately you can't do that. And this year really, the car speed's there, there hasn't been a question about that, it's just been a question about reliability. We've had some unfortunate problems with the car that have cost us races. If they hadn't have gone wrong, then we would have definitely been right up there in the hunt for the championship again this year.

MS: So is the pressure off for Bathurst now that you're essentially out of the championship?

CL: No, No, the pressure's probably more on this year than anything because we really need to now, score highly, (a) for Mark, and for myself to beat Garth Tander for second in the championship. So really it's more than what it was last year, because last year all we really had to do was finish fourth. So it's a little bit different this year, it's something we'd love to go there to win it as well, and get the trifecta.



"...I guess we're understanding it (the politics) a lot more now than we did when we first started. Really you just got to understand the industry you're in, and once you've done that, you're halfway there. We know that now. Now we just try and make changes in the future to suit us."

MS: Where do you need to finish at Bathurst to beat Garth?

CL: Um, we'll we don't necessarily need to be in front of him, but obviously knowing Mark and myself, we'll be doing our best to do that, so really we just got to finish the race anywhere, and I think if we can do that, we're in good stead for Mark to win the championship.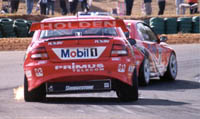 Pic: Michael Shaw


MS: Are you looking to go overseas for next year, in the Le Mans Series, or openwheelers at all?

CL: The reason I wanted to do the Adelaide race this year was to get involved in the Le Mans series, in the fact maybe to do some more racing during the year, not necessarily doing the whole season. Also, it's been something I wanted to do for the last three years, is the Le Mans race, the Le Mans 24 hour, just haven't been able to do it unfortunately because it's been clashing with our races here, so that would give me a good leg in for the teams to get some introductions for that to happen one day.

MS: So does it line up correctly for 2001, to get to Le Mans?

CL: Well, we hope so. Definitely we're pushing for next year to do it. We'll have to wait and see how it goes, see how our calendar goes against theirs.

MS: With Panoz? Or with any team?

CL: With any team at the moment, I'd just love to do the race. I think Mark Skaife, Greg Murphy have been able to do it. I'd love do it, just for the fact to be able to say one day that I've done it.

MS: So, what are your prospects for which team for next year?

CL: Ah, Dunno Yet.

MS: Dunno Yet?

CL: We haven't worked that out. Hopefully in the next couple of weeks we'll have it worked out, and sorted out, but that's something we need to do. We would have liked to have it done a lot earlier than now, but that's just the way I guess the whole industry and the polictics and everything goes behind the scenes.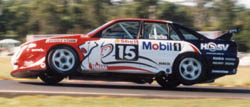 Pic: Mark Alan Jones


MS: So, how much has the politics changed since you first drove in the series?

CL: No, it hasn't changed a lot, just that I guess we're understanding it a lot more now than we did when we first started. Really you just got to understand the industry you're in, and once you've done that, you're halfway there. We know that now. Now we just try and make changes in the future to suit us.

MS: Ignoring which team you go to next year, what do you think of the new calendar, and the format?

CL: I actually like it. Myself, I prefer longer endurance races, so in that fact I think it'll be great. I think it'll be interesting to see the cost of running these cars for next year are probably going to increase from this year, so all teams have to find budgets, or bigger budgets than what they this year. That's probably going to be the only downer to it. And the other thing is we'll see how the public react to this type of racing, different to what we've had traditionally, our three twenty minute races, so there's a bit of factors there but halfway next year, or towards the end we'll see if it's any better or any worse. But I think long distance racing, for me, I prefer them, more than the sprint races.

MS: And what about pitstops?

CL: Yeah, that side of it all goes hand-in-hand. Again, I enjoy that sort of side of it, being in a car longer, doing more pitstops. It gets the guys involved, and really can make or break a race. And that's another element which could make it very interesting.




Pic: Mark Alan Jones


MS: What do you think of the increase of street circuits in the calendar? Is it good for the series?

CL: I think it'll be interesting. I guess the introduction of more street races as long as we've got the old traditional circuits with it, I think it'll be quite good. The racing here even Indy here, is great, it's fast, furious, you've got to be very committed to the circuit, otherwise you're just not going to get there. So in that respect I think it's quite good, but we'll just have to wait and see, again it's to the public. I don't mind racing on any circuit, it's just what the public want to see us race on.

MS: Which is probably why you want to go to Le Mans?

CL: Yeah, pretty much.

MS: What do you think of the common undertray and also in general, Project Blueprint?

CL: Well, it's interesting. I think when we first introduced our undertray, we offered it to Ford and they rejected it, they wanted to do their own, we wanted to make it a common undertray I think twelve months, two years ago, but they rejected it, they went on their own, it was a failure and now their still running ours. So it's interesting how the politics go again. But we're still 100mm short of what the Ford's are. I think we've proven over the weekend, or the Sandown weekend that the Falcons aren't a slug anymore, they're quite competitve, quite good, so we just have to see how the rest of the year goes, and see what they do for the next year.

I think it might be very interesting, my easy fix would be, that my dad (Former Shell Series Chief Scrutineer, Frank) told me is really at the end of the day, we've still got to have two different cars, (different) shaped cars, really all you can do is have the same efficiency rear wing, it may not look the same, it may not do the same (thing), but as long as it works the same way, and then let the teams design their own front. At least it then gets back to engineers, some thinking, some developing, instead of having just a common 'thing', we're getting to a NASCAR now, especially now, you've just gotta turn up and drive. I don't necessarily agree with that but I think that if it was still open to changes for teams and people to develop, to think, to change, I think it would still be good for the series.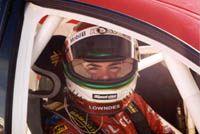 Pic: Michael Shaw


MS: What about the introduction of a third manafacurer?

CL: Well, that would be interesting. Obviously, Australia has always seen the Falcons and the Commodores do battle, that's the old traditional war. To have the third introduction of a manufacturer would be interesting again, but it's up to the fans. I don't mind it.

MS: Were their any problems at all with Panoz being a Ford engine?

CL: Well, it's not technically a Ford engine. It's a Ford block with other internals in it. What they are going to do though is that by Adelaide is that they're going to have their own engine built, so it won't have a Ford part in the car.

MS: Next year with the introduction of a new race in Pukekohe in New Zealand, how much do you think running the Tasman series last year (in Formula Holden) will help that?

CL: I guess it well help a lot. We'll tap into another market, I guess that we haven't been able to do, and we should have been doing it a long time ago. We have a great awareness of our category in New Zealand, and really the people, you see it at Bathurst, flocks of New Zealanders come over to Bathurst, that's great. We need to go back over there and do some more racing. And this is the start, of hopefully more races to come. We used to do the Wellington street race, again, I never done that, unfortuantly, that's a race I would have love to done. But, these cars over there would be great.

MS: And what about more races other than New Zealand?

CL: Really, I think we're looking at Malaysia and up there that way somewhere, so again. I think next year we might go and do a demonstration race, and see how it goes, and see what sort of interest it creates up there. It'll be good too. At the end of the day, everyone wants to, all the drivers want to go overseas and have an international link, this is probably a good way of doing it.

MS: How much of a problem will be that essentially the cars are really only sold in Australia and New Zealand?

CL: These Commodores now, GM sell up to, I think up to the Middle East, so these cars are getting more common up that way.

MS: They sell them in South America too...

CL: ...but not actually known as a Commodore, but the bodyshape itself is known so I think once that develops our racing will too.

Opinions expressed on v8sp10.nectar.com.au do not necessarily represent the opinions of the V8Supercar Pick 10 project or its contributors.