Indy Interview Series - Part 2 - Garth Tander
Michael Shaw

In the second of our interviews at Indy, Michael Shaw talked to 2000 Shell Series title contender Garth Tander. While his hopes appear on paper to be mathematically slim, Tander still has the opinion the he comes into Bathurst with an equal shot. Next year even looks more promising, with points for qualifying shootouts, and an improving GRM Commodore...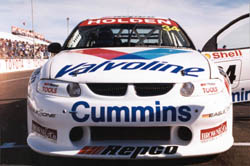 Pic: Michael Shaw


Michael Shaw: You're currently second in the championship. What are your chances of winning the championship this year in percentage terms?

Garth Tander: We're one of two that can possibly win the championship, so I guess you could say percentage wise we're 50 per cent at the moment, because it's between either myself or Mark Skaife, and Skaifey has to have a bit of a bad run at Bathurst, and we have to go well, but HRT have gone fairly average at Bathurst before, and they will do in the future. We've just got to hope that this year is one of those years.

MS: What's more important to you, winning Bathurst or winning the championship this year?

GT: Winning the championship I think, but I'm in a fortunate position where really I have to win Bathurst to win the championship, so really I've got the 'luxury' I guess you could call it of having to do both. Obviously Bathurst is a very special and important race, but I think the championship is something that we've been working towards all year.




Pic: Mark Alan Jones


MS: Do you think Bathurst should be part of the championship?

GT: Yeah, I do. I think maybe not the last race though, I think that's probably the only thing that maybe should be changed. In America, the Daytona 500 is part of the Winston Cup, the US 500 is a part of Indy Cars, the Monaco Grand Prix is part of the Formula One drivers championship. All the biggest races in the world are part of championships, and I don't have a problem with that, being a part of it, just maybe not the last race being so dependent on the championship.



"If they start to have a top fifteen then it's top 20, then it's top 30, then we'll have a shootout for the whole field, and that's not what it's all about, I think they want to keep it definitely to a top ten."

MS: What do you think of the new format with the longer races and pitstops next year?

GT: I think it looks good. There's obviously more chance of having different winners obviously with the pitstops in there, and teams that work their strategy correctly and also use the top ten shootout to their advantage will have a good run. So really it's a different championship and it's probably something that we've needed to see for a while so really I think it's a good, fresh looking calendar, that will give us something to work with in the future years, that's for sure.

MS: And what about the introduction of top ten or fifteen shootouts at every round, considering that the previous ones have been won by you this year?

GT: It's good to have top ten shootouts because we seem to go OK in them, but I think it adds a bit of spectacle to the public that are there at the circuit, it gives them something to look forward to. But, I think they've got to be careful that, with Bathurst having a top ten runoff is quite a special event in itself at Bathurst, so if we have a top-ten runoff at every race next year, then hopefully it won't take too much shine off the top-ten shootout at Bathurst. But as a driver, I think it's a good thing.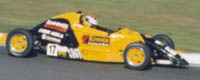 Pic: Mark Alan Jones


MS: There going to go to top fifteen at Bathurst, is that a good thing?

GT: I think it's bad, I think they want to keep it a top ten, because really the top ten is something special to be part of. If they start to have a top fifteen then it's top 20, then it's top 30, then we'll have a shootout for the whole field, and that's not what it's all about, I think they want to keep it definitely to a top ten.

MS: You're driving with Jason Bargwanna in the endurance events, obviously the seating position is very important. How much of that is down to you and how much of that is down to the team as to where the compromise lies?

GT: Jason has a little bit of a compromise and I have a little bit of a compromise, and we meet somewhere in the middle, and then we make a seat insert for Jason. Seat inserts aren't new, they've been around for years, it definitely doesn't slow down our pitstops, our driver changes are as quick as anyone else's. Really it's beneficial for us to run both of us in the car together because our lap times are very similar, we like the car set up the same and we race the car all year, so we know what to expect from it. The small sacrifice you have to make in being 100% comfortable is relatively insignificant.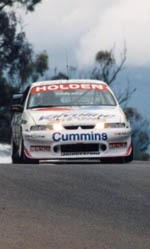 Pic: Mark Alan Jones


MS: With Leanne (Ferrier) here driving next year in the Lites, how much under threat is your seat now?

Leanne Ferrier laughs in background.

GT: (laughs) Under threat? My seat? (Confirming that MS did actually ask that question!)

GT: (laughing still) My seat's not under real threat because she won't fit in it, because she's too short.

MS: Alright, Jason's seat?

GT: Well you have to speak to Garry (Rogers) about that (still laughing). Really, we'll expand to a three car operation next year with the Lites car as well, and I'm not sure what Garry's got planned, but I think Leanne will probably spend two years in the Lites, hopefully if we win it the first year, then we'll move straight up into the Shell Series. But probably the first year to learn and the second year to win the championship and then move on and maybe boot one of us out of our seats or run a third car in the Shell Series, we'll have to see how the Lites team evolves.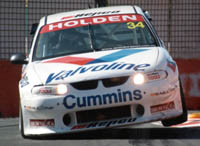 Pic: Michael Shaw


MS: And where would you like to go from here, would you like to start your own team, stay with Garry Rogers?

GT: Definitely for the foreseeable future I won't see myself leaving Garry Rogers Motorsport. Ultimately, I would like to be a team owner, team manager for my own team, but that's plenty of years down the road. Really, I'm more focused on winning the championship for GRM and if that doesn't happen this year, then it'll definitely happen next year.

MS: Garry Rogers obviously has a good eye for young talent, he's picked up a few people now, what qualities does he have to spot and nurture this talent?

GT: I don't know, you'll have to ask him that. Obviously, he has nurtured a lot of young guys, he started with Steven Richards, and then Bargs, myself, with Leanne also, and he's also sponsored guys like David Besnard, Marcus Ambrose, (and) Jason Bright. He always seems to associate himself with young drivers that are capable of doing the job, and obviously that's some sort of skill that Garry has. He can spot potential drivers, and give them the opportunity to shine and from then on that particular driver is given the opportunity to do their job, and I think motorsport in general owes Garry Rogers a fair bit for that.

Opinions expressed on v8sp10.nectar.com.au do not necessarily represent the opinions of the V8Supercar Pick 10 project or its contributors.