Indy Interview Series - Part 3 - Cameron McConville
Michael Shaw

He's one of the men most likely to take the vacant seat at HRT. He has raced everything from SuperTouring Audi's to GTP and now, Rod Nash's V8Supercar. In this interview Cameron talks to Michael Shaw about the Audi experience, the difference between HRT and the small Rod Nash team, and his expectations for Bathurst.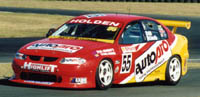 Pic: Mark Alan Jones


MS: What are your ambitions for the future, are you to stay with Rod Nash and improve them, or your own team?

CM: Probably wouldn't like be my own team because it's a big thing to start up from the ground up, so as a race driver you want to be in a competitive ride, so I'll try and do that for next year. We haven't worked out what we'll be doing as yet, so we'll just get through Bathurst and make a decision from there.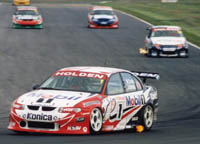 Pic: Mark Alan Jones


MS: How much have you preferred driving this year with more of a full time ride, than last year with just a few rides?

CM: I prefer to be in the car full time, that's for sure, because you only get better that way. The category's so competitive, you've got to be doing miles all the time. But it also has been a bit frustrating, because we've been back a bit further than I would have like to have been. I suppose it's a catch 22. I drove for HRT in the enduros last year, and was on the podium in both races, whereas I've been in the seat all year this year, but back in the pack. So it's a bit of a trade off, but you'd prefer to be racing each week, that's for sure.

MS: Have you been approached by Ford Tickford or HRT for available seats there?

CM: No, No, No, Nothing. Well, I don't know if there is an available seat at HRT anyway.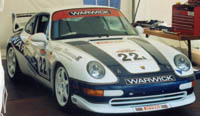 Pic: Mark Alan Jones


MS: OK, the possibly available seat then?

CM: No, Look I don't think they're talking to anyone until they know what Craig's doing, so, that's understandable, and, as I say, we'll just get through Bathurst and see what happens.

MS: What do you think of the new Shell Series format?

CM: I think the format's good. I think it's great. The longer the races, I think it helps other teams. There's a bit of strategy, pitstops, driver fitness. The sprint races there's too much emphasis on qualifying. From our team's perspective, slightly longer races works in our favour, without a doubt.



"Basically resources, you could put it down to one word, resources over budget. And I suppose budget buys resources at the end of the day."

MS: And how will it effect the smaller teams, with most likely an increased budget required?

CM: Probably not a lot more budget, because we're still doing quite a few kays on the day anyway with the sprint rounds. It might be a little harder on componentry being longer races, and you'll probably need more guys because you've got pitstops and things, but if anything it should bring the other teams closer up to the front, I would think.

MS: The possible limit of 32 cars, again how will that effect the smaller teams?

CM: It will. It'll effect the smaller teams a lot. Particularly Rod Nash, for example, who hasn't driven all year, so he's still trying to get competitive, and he's not quite right on the pace. But he's made a commitment for two cars all year, yet if he's denied the chance to race, when he has a Level 2 or Level 1 franchise, it makes it hard. I think that's a bit tough, but I can see where they're going with it, and that's what they want, the 32 quickest cars.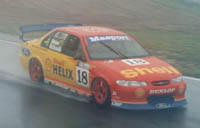 Pic: Mark Alan Jones


MS: Aside from obviously budget, what have you noticed is the biggest difference between HRT, and to a certain extent Audi, and Rod Nash's operation

CM: Just HRT have been doing it a lot longer. Rod Nash's has been going two years, one year really, the first year as a two-car team, so it makes it hard. HRT, they're a close knit group. Basically resources, you could put it down to one word, resources over budget. And I suppose budget buys resources at the end of the day.

MS: Are you driving with Rod Nash at Bathurst?

CM: No, we're running two cars, Rod will drive with Paul Dumbrell, and I'll be driving with Geoff Brabham for that race. We've just signed a deal with him (Brabham) this week, he'll drive with me. And we'll go up there with two cars, which will be good.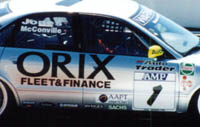 Pic: Mark Alan Jones


MS: Looking for a top ten finish?

CM: That'd be nice. Yeah, that's definitely the plan. We won't qualify in the top ten for outright speed of the car, but that's where we want to be at the end of the day, well and truly in the top ten.

MS: Was the Audi drive a positive experience in general?

CM: Oh, for sure. It was good because I was working with a manufacturer, and that's what it's all about. I enjoyed that, and it opened up the door for me, with Audi, to run their drive days for them, which I do now. It's been good, it's been a good business relationship really.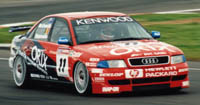 Pic: Mark Alan Jones


MS: What do you think of the unfortunate demise of Super Touring?

CM: It's sad, it's definitely sad. But it doesn't have the support in Australia, and it never did. Audi didn't get the money from Europe this year. It's a world wide trend though, not only Australia, for Super Touring to wind down and Sports Car racing's got bigger in Europe. It's a real shame, it's a pity it didn't kick on, but obviously the Australian people voted with their feet, and they follow V8s.

Opinions expressed on v8sp10.nectar.com.au do not necessarily represent the opinions of the V8Supercar Pick 10 project or its contributors.