Indy Interview Series - Part 6 - Jason Bargwanna
Michael Shaw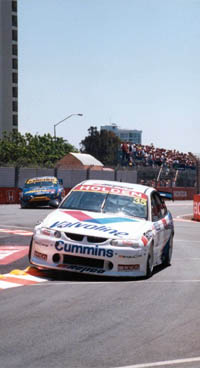 Pic: Michael Shaw


In the sixth of his pre-Bathurst interviews, Michael Shaw caught with Garry Rogers Motorsport driver Jason Bargwanna. Bargawanna is one of the key players in the 2000 FAI 1000 script, co-driving with championship contender Garth Tander. Bargs talks about his career, the format changes for V8Supercars in 2001, his chances for 2001, and more immediately Bathurst.

Michael Shaw: You debuted at Bathurst in 1990 in one of the class cars. Did you expect success to take as long as it did?

Jason Bargwanna: I debuted at Bathurst in 1990 in the Commodore, with Brian Callaghan Junior. In 1992 I drove the (Toyota) Corolla up there. I'd raced a bit before that. But I didn't think it was going to be an overnight thing. At the age of 20, 21, 22, I had not a dollar to my name, it took a while to raise the funds to race a Formula Ford, but I never gave up on the dream and figured it was always going to happen.

MS: The infamous crash at Bathurst in the warm up (in 1997), how much at the time did you think that would set you back in your career?

JB: I never really thought it would. I figured obviously that it was an accident, that a lot of people have had unfortunately, accidents at Bathurst, but it's one of things. I didn't feel that it would slow me down that much. I believe that I've performed over the last few years, (which is) far greater than just one day at Bathurst. If there was any chance of getting a drive with the team, it would depend on my other performances, not just that one day.




Pic: Mark Alan Jones


MS: Do you think it affected your chances at HRT though?

JB: My opportunities Holden Racing Team weren't as great as some might have suggested. Mark Skaife was there, Craig Lowndes was coming back, (and) there really wasn't any opening to be part of that team. Today I'd still be sitting on the sideline waiting, that driver line-up still (stands) at Holden Racing Team.

MS: You won your class at Bathurst in 1992. Do you think class racing should return, at least for Bathurst?

JB: No, not really. I think what the sport is now, is the V8Supercar racing, and back ten years ago, class racing was a big part of Bathurst, but now it's not. They don't have class cars at the Daytona 500. So no, I don't think so.



"At the age of 20, 21, 22, I had not a dollar to my name, it took a while to raise the funds to race a Formula Ford, but I never gave up on the dream and figured it was always going to happen."

MS: What about the new Shell Series format, what do you think of it? Longer races, pitstops...

JB: I think it's going to be very exciting. I think it's going to suit our team. I think it's going to produce great racing; something for the spectators. If the spectators like it, I like it as well.

MS: And what do you think about all the top ten and fifteen shootouts? They're going to be at every round now...

JB: They're a good thing. We perform well on the opening laps of qualifying; it's the sort of thing where our cars are good. I reckon it's going to work for us, it's going to be a good thing.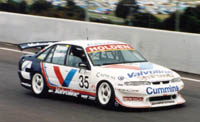 Pic: Mark Alan Jones


MS: Would you have liked to have continued your open-wheeler career?

JB: When you're young, you dream of racing F1, or Indy Cars or something like that. When you first start racing, you figure it's easy, well not easy, but achievable. It certainly is achievable, but I feel that my future is in Australia, and I've always felt that. I enjoyed racing overseas, I enjoy racing single seaters, but I want to win Bathurst, and I want to win the Australian Touring Car Championship. To me, that's what my goals are, and that's where it all lies.

MS: What about the introduction of more street courses? Is that good or bad for the championship, and for the permanent tracks in general?

JB: I think that the sport now has risen to a level where the street tracks are part of it. We have to take the sport to the people. I think it's a good to have a mixture of the street tracks, the big events, and the normal racing at the (permanent) tracks around Australia. Those tracks need to exist, we need to support those tracks, but I think the sport's outgrown itself.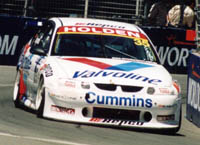 Pic: Mark Alan Jones


MS: And the introduction of overseas racing, especially at Pukekohe next year in New Zealand. It seems to be the direction which the sport is going, how much further should it go overseas?

JB: It depends on how much that effects the budgets of the teams. If it starts becoming a sport, in which only four or five teams can afford to play, because we're overseas all the time, then it's pointless. That'll depend obviously on what the budgets for the teams are, whether the teams are capable of racing overseas more, and we'll see how we go from there. It is an Australian series, but I think the overseas races are good too.

MS: And your championship aspirations for next year? Do you think that's highly possible?

JB: Yeah. This year my goal was to get in the top six, I'm sitting seventh or eighth at the moment, with Bathurst to go. It should be achievable. We've had a bit of bad luck this year with mechanical failure, flat tyres, people spinning into me, stuff like that. Next year hopefully, I'll be up there contending for the title, that's my goal, and that's where I'm heading.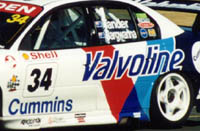 Pic: Mark Alan Jones


MS: One race to go this year. Garth in with a good chance of winning the title, considering the number of points up for grabs, and we'll, it's Bathurst. How much can you help? Obviously you're driving the car, but in general how can you keep him psychologically up there as well?

JB: I think Garth's a very smart guy. He's very strong. He's been at the top of the championship all year. We are going to Bathurst to win Bathurst. If we win the championship, or if the team win the championship as well, that will be a bonus. But we're going there to win the race, and it's all out stops to try and win Bathurst. That's what our goal is to do. I think it'll be a fantastic event. We both want to win it, the whole team wants to win it. We'll wait and see.

Opinions expressed on v8sp10.nectar.com.au do not necessarily represent the opinions of the V8Supercar Pick 10 project or its contributors.