Indy Interview Series - Part 7 - Jason Bright
Michael Shaw

In the final of our pre-Bathurst interviews, Michael Shaw caught up with Jason Bright on Friday before the Honda Indy 300. Bright together with Paul Radisich will start practice for the FAI 1000 as the favourite to take the win, following the outstanding speed of the Dick Johnson prepared Falcon during last year's race. Jason talks to us about his Bathurst hopes, as well as his CART career, including the initial impressions of his Champ Car experience on the Gold Coast.

Michael Shaw: We'll start off with how today (Friday) went?

Jason Bright: Today was obviously always going to be a difficult day. To add rain into the first session made it a lot harder. We we're hoping to use that first session just to get comfortable in the car again, and then start working away at times, but the session was pretty much wet all the way through. I basically went straight into my first Champ Car qualifying without any dry running on this track. It was going to be a difficult situation, but made all the more difficult by going ahead in the braking area and costing ourselves more time. I'm sure today isn't a very good indication of how competitive we are.

MS: How much did the experience previously at this track in Formula Ford and the V8s help?

JB: It hasn't really helped us a lot. It's obviously good that I know my way around the track, but it is just so much faster. All the braking markers are different, how you attack each corner's different, applying the throttle is different. So it helped me because I know the track, but that's about all.

MS: In that qualifying session you also lost a few laps, when you went off at ANA...

JB: At the ANA corner, I just went in there a little bit hot. I possibly could have made it through the corner, but rather than try and make it through the corner and possibly touch a tyre wall, I decided to go straight ahead. There was some air in the clutch line, so the engine stalled when I tried to get neutral. We lost a bit of time there, and then obviously we got a time penalty because we stopped the session. We really didn't need that, but it's just one of those things. You can't turn back the time, so you've got to live with what you've got. We went back out at the end of the session and I think the times we were doing were probably relative to where we would have been at that time, but we just needed more laps in the middle of the session to be lower.

MS: How was your first run in a Champ Car at Firebird a few weeks ago?

JB: That test went really well. It probably couldn't have gone any better. We did a lot of running, and ended up feeling very comfortable in the car, and did a very competitive time, which was in eight tenths of the quickest ever time around there. We just need more laps here. It was a much shorter lap there, so relatively it would have been one and a half seconds off the quickest time here. I'm sure we can move up a bit closer tomorrow, with another two or three laps today we would have been further up.

MS: Were you disappointed you couldn't get a run at Houston with the moving of the Lights round?

JB: Yeah, I was. That certainly would have helped us immensly, just to have been able to have been through the things that I've had to go through today back then, would have put us in a much, much better position coming here.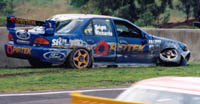 Pic: Mark Alan Jones


MS: Generally your Lights season this year has been good and bad, with a win at Portland and also a crash later on...

JB: We've been competitive, which was every bit as competitive as what we would have hoped for. Of the seven races that we've finished, we've been on the podium five times, which is a pretty good percentage, probably a higher percentage than anybody else. But unfortunately, we haven't finished four of the eleven races. It's not the way to win championships. I'm sure if we were able to finish those other races, we'd still be right in the mix of things.

MS: Just going back to the first race at Long Beach: Did you expect to run that far up straight away?

JB: I was reasonably confident we could run that far up. The testing went really well, and I've raced against some of these guys before, and we've been competitive with them. It was just a matter of how quickly we could learn the track at Long Beach.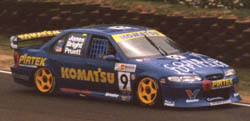 Pic: Mark Alan Jones


MS: Are you looking forward to returning to Bathurst?

JB: Yeah I am. I'm even looking forward to getting into a V8Supercar next week. It should be quite interesting stepping back into a V8Supercar.



"It was very disappointing, now that they've figured out that the Falcon was slower. It was something that we knew all along, that we were sort of being dealt a bit of a bad hand."

MS: How much did the years in V8s help your openwheeler career?

JB: As far as driving the car, it doesn't really help at all. It's so completely different driving an openwheeler when compared to a V8Supercar, that nothing really applies with anything. It doesn't do you any favours. But it does help in the sense that it's good racing and all that, but as far as driving the car and going quickly, no it doesn't help.

MS: I assume you will be doing most of the running in the DJR test session next week?

JB: Yes, basically spending the whole day at the track with only me driving. It should be good. I'm getting three days in the car before we head up to Bathurst.




Pic: Mark Alan Jones


MS: It was decided this year that the VT was 0.3 of a second faster, where do you think you would have finished last year (in the series)?

JB: It was very disappointing, now that they've figured out that the Falcon was slower. It was something that we knew all along, that we were sort of being dealt a bit of a bad hand. I think certainly we would have been able to have been more competitive last year. It's disappointing that it took them so long to figure out.

MS: Have you been able to keep an eye on what the series has been doing?

JB: Yeah, I still check all the results on the Internet and everything, and keep a good eye on it. I've obviously got an interest in there because we're with Shell Racing. I'm keen to see how they're going, and what shape they're going to be in once we get to Bathurst.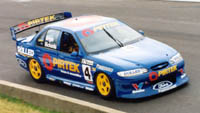 Pic: Mark Alan Jones


MS: What prospects do you have for next year?

JB: We're talking to a number of teams at the moment. We're working on both sides, the sponsorship side and the teams side this weekend. I'm sure if we can run a bit more competitively tomorrow, it will increase our position of trying to get a drive next year.

MS: How much as IMG helped with finding sponsorship and also getting this ride?

JB: It would have all happened without them. They've put in a lot of hard work, and fortunately through the (Queensland) Government, IMG, and the sponsors we've found, we managed to put a package together to enables us to run here.

Opinions expressed on v8sp10.nectar.com.au do not necessarily represent the opinions of the V8Supercar Pick 10 project or its contributors.