Richo's World 1: Changing to a blue AU
How Seto "got Richo Quick"!
Steven Richards

While Holden turncoat Craig Lowndes captured much of the off-season attention, another popular Holden renegade was doing some moving of his own - new Ford-Tickford Racing employee, Steven Richards. In his first editorial for Conrod.com.au, Richo put pen to paper exclusively for us to explain a tumultuous summer leading to his own dramatic General Motors defection.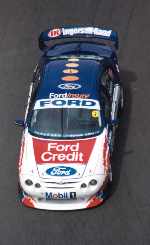 Richo will drive the number 6 in 2001.
Pic: Michael Shaw

As you are all well aware, the times they are a changing in the V8 Supercar series of late. None more newsworthy than the whole Craig (Lowndes) deal, but in amongst all of that, let me get you up to speed on how I too became an ambassador for the Blue Oval brigade.

During the early months of December, my family and I departed for a quick holiday to catch up with some friends in the UK and show-off our new addition, son Clayton.

Everything prior to leaving had gone, I would say, quite well. A third at Bathurst with Murph (Greg Murphy) was a great result considering an overheating engine, and post-Bathurst I had finally sat down and got into the business of negotiating for season 2001 with the Kmart Racing team. I had not seen the draft for the contract, but was assured it was all happening.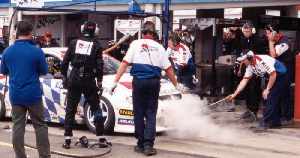 Cool off: The Kmart team try to cool the overheating engine at Bathurst. It worked, Richards and Murphy finished third.
Pic: Michael Shaw

Aside from the holiday, I had a fair bit of mucking around to do for the team, all of which was for the development of the K-Mart cars for 2001. They were just little things like organising some sensors for the suspension and other things for my own general knowledge.

Around the 12th of December I had a couple of messages from people I knew telling me that team owner Garry Dumbrell had sold the operation back to Fred Gibson. Naturally this was big news to me, as I was not aware that this was going to be the case and the whole basis of my negotiations for 2001 hinged on things remaining static. After ringing Garry Dumbrell all my worries were put to rest as he assured me that nothing was happening, although if he was offered "stupid money" he may consider it.

From that point on the phone messages became more frequent - every morning when I turned on the phone, people were insisting there would be a new owner down Dandenong way. Naturally as you would, I again rang the man at the centre of it all, who again denied the talk.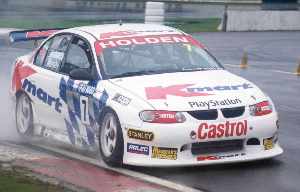 Pic: Michael Shaw

On the way home from the UK we stopped in Singapore for a couple of days. An hour before boarding the plane home, I checked my phone messages one more time. There were two messages - one from Dumbrell, and one from a crewmember at Gibson Motorsport confirming the sale to the team's namesake.

I was pretty disappointed, as I had been told on a number of occasions that everything was going well and all would be as it had been in 2000. At this stage I did not have a signed contract for the upcoming year, and I was beginning to see why it had been so difficult to get anyone to talk about next year. Hindsight is a wonderful thing.

I rang Fred on my return to Oz and asked him what the situation was. He told me that until he had spoken to Kmart he did not know where he stood in terms of 2001.

Now I knew what was happening, I could start to make plans for finding a drive. Obviously at that time of the year all of the full-time positions had been filled and, I must admit, I was anxious. That's not to say that Fred may have had something available after he had spoken to the sponsors, but you can't live on hope.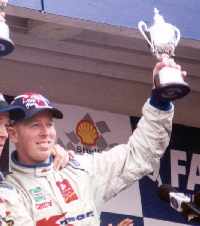 Pic: Michael Shaw

FTR was on the list, as I had heard they were yet to sign a driver. Needless to say, they were interested. And the rest is history.

Glenn Seton has been nothing short of fantastic to deal with and already after one day of testing at Phillip Island we have made some inroads into unlocking the secrets of the AU Falcon. We will have one more test at Phillip Island before heading off to the Qantas Australian GP for our first race.

It's early days, but all the crew at FTR is enthusiastic and ready to tackle the tough season ahead of us. Believe me, it never gets any easier in V8 Supercars and with all of the changes and the competition getting tougher it will be a season to remember. We have a new format, which includes more longer races, and we are off to Kiwiland for a race, where the fans are just as crazy about V8s as we are.

So with drivers changing camps, new racing formats and going overseas, this season promises much. Hopefully I can have my fair share of success and, with any luck, take out the championship at the end of the year.

Have a great year, and see you at the track!

Richo