Rick Kelly: A steep learning curve

R Kelly believes he can fly...or at least drive really fast.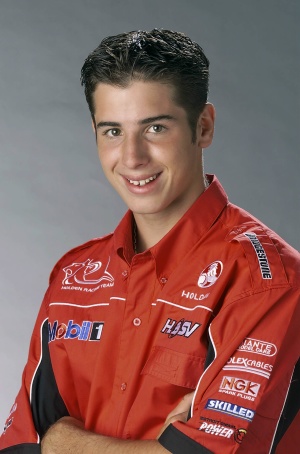 Holden Young Lion Rick Kelly



And with the resources of the Holden Racing Team behind him, combined with an instinctive talent, this unassuming, 19-year-old Young Lion cub is turning heads in his first year on the V8 Supercar circuit.

Conrod.com.au's Michael Shaw caught up with Todd 'the toddler' Kelly's even younger brother at Oran Park for a progress report.


Michael Shaw: How has your year been so far?

Rick Kelly: It has been a steep learning curve, I guess. We haven't really had the results there but we've learnt a lot and hopefully we can better that throughout the second part of the year.

MS: Has your experience in Formula Holden helped a lot in driving the V8 Supercar?

RK: It is totally different, I guess. The setup of a Formula Holden is totally different. I guess you learn the circuits in one respect but it doesn't help in setting up or knowing what a V8 will do around the circuit.

MS: How much help have you been getting from the rest of the HRT crew?

RK: Mark [Skaife] and Jason [Bright] have been pretty helpful throughout the whole year and the crew itself has also been pretty helpful. I mean, myself and Pete Smith and Johnny and Jase and the guys [Holden Young Lion unit crew] are just sort of learning to get along with each other and how each other works so we have needed a little bit of help here and there and they've been happy to give it to us.

MS: Who is your partner for the endurance races this year?

RK: Nathan Pretty.

MS: What do you think your chances are for the endurance races?

RK: We've got from 28th to 8th, so hopefully if we can maintain that position or move a little further forward, we'll be right.

MS: What are your plans for 2003?

RK: Hopefully if I can get a drive under the TWR banner somewhere, it would be great. The guys, we seem to get along pretty well and they've been pretty helpful and positive towards me.

MS: Continuing in the Young Lions program?

RK: We haven't had word yet, but I guess that's what I'm assuming.

MS: Do you still have any ambition to race overseas?

RK: Not any more. It's just too difficult to get over there from Australia. I mean, I've got a great position here at the moment. I really want to expand that and see what I can do here in Australia.

MS: Which are your favourite circuits to drive on?

RK: I guess my two favourite circuits would be Phillip Island and Bathurst.

MS: Any particular reason?

RK: No, I just like them, I guess. They are great circuits. Phillip Island is more of an international circuit, nice and quick and flowing, which is good in a touring car, and Bathurst just as a track itself.

MS: With Formula Holden last year, you were basically winning everything easily. Was it a useful experience?

RK: I think it was. Just learning how to set up a car and how to work with a team was a big thing and we were at most of the V8 meetings, which was a bit of a help. So in that respect I think it was good.

MS: Where do you want to be in five years time?

RK: Hopefully the V8 champion of Australia.