Cameron McLean: A hard year, a hard game

In the right car, Cameron McLean, former privateer pacesetter and twice top-four finisher at Bathurst, can beat just about anyone.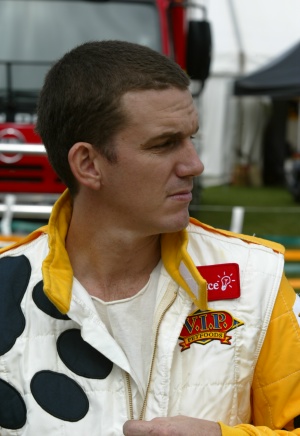 Paragon Motorsport's Cameron McLean



But aboard an uncooperative ex-Prancing Horse Racing Falcon, the 2002 season has been an uphill battle for the mercurial Queenslander.

Conrod.com.auís Michael Shaw caught up with McLean over a toasted sandwich at Oran Park for an update.


Michael Shaw: Is it a good lunch?

Cameron McLean: About as good as a ham and cheese jaffle gets.

MS: So whatís your impression of your year so far?

CM: Iíll bore you with a relatively long story, but make it as short as I can. We got a new car from Prancing Horse [Racing], which had all new bits. We werenít happy with the way it was put together. [There was] no way it would have finished Bathurst the way we got it. So for the first bit of the year we rebuilt the car, put all the bits in the right place and started fiddling and sorting it out for the Bridgestone tyres the way they were last year. Then we started to do some testing and realised we didnít really have a handle on where we were going. The competition had moved on that much; we needed to get some more staff.
So we fiddled around and found ourselves a chassis engineer, who couldnít start for the first four rounds of the championship. So we went through those first four rounds and we got a young guy, Matt Bonaface, whoís pretty smart and weíve got him on now. He came onboard at Canberra and each time weíve qualified, weíve moved up. Weíve been 29th and 21st and 17th and got our best result in Perth, so thatís made a fairly big improvement.
Now after race one at Oran Park, where weíve just been bashed from pillar to post, it seems weíre going backwards at a million miles an hour, but itís just a tough day out. But the carís not too bad and itís getting better and quicker and weíre just getting a handle on whatís going on. But itís just a hard year and a hard game. Youíve got to get into it; itís just so competitive.

MS: Did the change to Dunlop tyres push that back more than it probably would have otherwise?

CM: If weíd have been on Bridgestones again this year, only because we had all the setups from last year, we probably would have been not as badly off. But itís just a matter of some teams have got a handle on the tyres quicker than others and we werenít one to get a handle on the tyres.

MS: Itís just been announced that your co-driver will be Peter Doulman for the endurance races. What led you to that choice?

CM: We had Tony Scott with us. We picked Tony because heís been there before and heís got some natural pace, experience and knows what is required to get a good result. And Tony had to pull out because of his, as he put it, Ďbusiness commitmentsí Ė I have no idea what that means. And we wanted to look for another guy like that and Peter Doulman was available. We signed him up and away we go. [We] did a few tests with him and he was up to pace, so hopefully heíll do a good job for us.
We didnít pick him because he was a dummy and he drives slow. We were quite happy with the way he tested and what he did and how he looked after the car. And he just needs a few miles to get up to pace because he hasnít driven one for 18 months. Heíll be fine. We looked at the data and went through everything and we were happy with the way he was performing.

MS: So, as a pairing, how do you think youíll go at the endurance races?

CM: Well, how do you know? You canít pick these races any more, can you. Iíd like to think weíre going to go really well. I donít know, I really donít know. Especially the VIP Petfoods race, the 500 up there [in Queensland], we want to do as well as we can, as our sponsor is sponsoring the event.
Weíve been doing a couple of days testing. Weíve been on the pace with all the other Ford teams that live in Brisbane. We were the third fastest car in testing the other day up at Willowbank. Thatís as good as weíve done and that all comes back to an engineer and those sorts of things.

MS: What are the plans for the team for 2003 and beyond?

CM: Keep our current sponsor, VIP Petfoods, get a whole lot of money, get a better infrastructure, get more staff, get more equipment, go faster and win some races.

MS: A bit of everything really...

CM: Yeah, thatís it. In a nutshell, thatís the plan. With money comes all those things.