Skaife rewrites record books...but does anyone care?
Jason Whittaker

Sadly divorced rockers Ben Folds Five used to sing of a Battle of Who Could Care Less. It could soon become the new anthem for V8 Supercar racing, writes Conrod.com.au News Editor Jason Whittaker.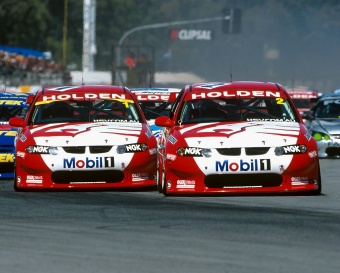 The Holden Racing Team's Mark Skaife and Jason Bright leading the pack...an all-too-familiar position



Mark Skaife and the Holden Racing Team are very good at what they do. Too good, it seems.

Skaife's championship cakewalk has some fans turning off and not turning up.

Sure, AVESCO Chairman Tony Cochrane's spin factory will tell you television ratings and track attendances are up. They probably are. They're a loyal (albeit frustrated) bunch, motorsport folk.

But the championship is becoming increasingly irrelevant to the greater sporting community. When you're locked in an unending battle with 'mainstream' sports for the media's attention, that's not the ideal situation.

Not to mention the corporate world, this multi-million dollar game forever at its mercy, which must look at any car not part of the HRT stable as a decidedly unattractive investment.

Who could blame them? A non-HRT round win is now a distant memory.

All while Mark Skaife's shoulders strain under the weight of countless winners' wreaths, and his team, no doubt, try to squeeze another sponsor's sticker on the most lucrative mobile billboards in Australia.

It doesn't matter that the cars are loud, colourful and ultimately captivating; the contest generally closely fought; and the drivers talented, personable, highly marketable commodities.

It doesn't even matter that one driver and one team are rewriting the record books with a phenomenally impressive, consummate performance. One that deserves to be celebrated for years to come.

You just can't sell a one-sided contest. No, Mr Cochrane, not even you.

But that's the thing about motorsport – it's not fair.

Talented drivers can be in the prime of their careers while languishing at the back of the grid. Good teams can be soundly beaten by better funded, better equipped, better prepared ones.

And I reckon it has something to do with momentum, too. Just ask Michael Schumacher, or Valentino Rossi.

Playing catch-up 'aint easy.

Project Blueprint has been hailed as the saviour of V8 Supercar racing. The Commodores have an engineering advantage over the Falcons, apparently. The powers that be are fixing the imbalance for next season – or possibly earlier.

But does anyone seriously believe the Holden Racing Team will stop winning?

No, those red and white mean machines – unfairly dubbed 'the Evil Empire' – are just too good. The rest aren't good enough.

The streak will end, of course. Perhaps as soon as the upcoming endurance races, where even the best invariably come unstuck.

It's still the best show on four wheels. So keep the faith, keep turning up, keep turning on, and keep buying your Mobil oil – or Castrol, or Shell, Valvoline, Caltex...

Just don't expect a change at the front of the grid anytime soon.

As the old mantra goes, 'that's racing'.