Season 2001 - The Year of Tipping Dangerously
Mark Alan Jones

At last after teasers at Wakefield Park, Albert Park and Oran Park it's finally upon us - The 2001 Shell Championship Series.

This one will be a tipster's nightmare. Not since 1996 have we started a season with so many question marks. Change is everywhere. Some older drivers are gone, some new drivers arrive on the scene and the established stars are switching around teams like it's CART.

However the major change isn't to the teams, it's to the race format. The three 20 minute race format that has been used since 1996 has fallen from favour, and will only be used at Barbagallo Raceway and Calder Park.

Phillip Island, Eastern Creek, Hidden Valley, Oran Park and Winton will each host two 100-kilometre events. Sandown returns to its endurance roots with a three 150-kilometre races, while the first overseas venture at Pukekohe near Auckland will feature three 100-kilometre races. The remaining four races, the Clipsal 500 (2 x 250km), GMC 400 (2 x 100km + 1 x 200km), OzEmail Queensland 500 and the currently sponsorless Bathurst 1000 retain their existing formats.

With compulsory pit stops at almost every round, more pressure than ever will be on the pit crews. The longer races will also test driver stamina. Be under no illusions, this years champion will thoroughly deserve the title.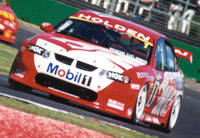 The Red Baron: Skaife's title defence will tougher, going away form a triple-sprint format which suits him. Pic: Michael Shaw


Not since 1996, perhaps even 1993 have there been so many changes to the status quo amongst the teams. The Craig Lowndes story dominated the off season and justly so. The driver with the highest profile in the country defects to another Holden team. Only this Holden team has sold all it's Holdens and now has a gorgeous black and silver, Stone Brothers built Ford.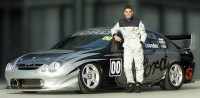 Zeroing in on the HRT: Lowndes will lead Gibson Motorsport into a new era


All year, which admittedly hasn't been long, Lowndes and new boss Fred Gibson have been playing down their chances. They're "learning the car", it's "a ground up new team," yadda, yadda, yadda, yadda - we've heard the cliches before. At Albert Park, first time out, he finished 12th, 3rd and 2nd. Make no mistake, he'll be out to win races this year.

Triple Touring Car champions are hard to come by. Lowndes is one. The only other running in the series also has the biggest stick in the competition. Mark Skaife enters his fourth full season with Holden Racing Team as the reigning champion. HRT are the biggest name in the business and despite all the changes in the off season Skaife and new team mate Jason Bright will win more racers than any of the other teams.

Of all the Australians in the racing world HRT could have picked to replace Craig Lowndes, they've picked the most qualified driver. Jason Bright won Bathurst in a remarkable triumph over adversity in 1998, and was the leading Ford driver in the 1999 Shell series. He very nearly won Bathurst 2000 as well.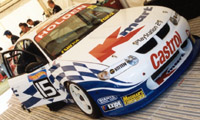 It's still called Kmart Racing Team, Murphy and Holden, but it's still all change. Pic: Michael Shaw


Even TWR Australia isn't a two or even three car operation any more. Paul Romano takes over from Todd Kelly as the Young Lions driver in a complicated series of manoeuvres designed, it would seem, to keep Greg Murphy in a racing seat following the disbandment of the KMart/Dumbrell team.

Early in the season Romano will drive a leased Rod Nash Racing VT before taking a HRT hand-me-down mid year. For Romano, who has been surprisingly effective at times in an ancient VS that has perhaps done more racing miles than any other V8Supercar, it will be perform or be damned. Last year was his worst year after the old car finally reached its use by date and was no longer able to qualify for every meeting.

Then there's the TWR Australia inspired HRT-A team, or Kmart Racing Team, as they will be known. Combining the old Young Lions team with the remnants of the KMart/Dumbrell squad has created a new team, sort of, for Todd Kelly and Greg Murphy. The team will have to endure the annoyance of pre-qualifying at a lot of meetings this year but otherwise will be a two-car extension of HRT in all but name, even though there is a wall between KRT and HRT.

Lurking quietly in the background is the ominous presence of Dick Johnson Racing. The Shell backed team cast a huge shadow over Bathurst last year, with a 1-2 finish looking possible. They were the only team to field two truly competitive cars at Bathurst, and in the dying hour, boy did it show.

Paul Radisich just exudes confidence as a driver, and with the re-emergence of the Falcon as a race car in October last year at Sandown the Kiwi is a definite title threat. Steven Johnson shocked the establishment with his pace at Albert Park. He has lost 30 kilos from his fighting weight of 10 months ago, and is looking hungrier for it (pardon the pun). Could we see two genuine front running DJR cars for the first time since 1998?

It's all change at Stone Brothers Racing. The car looks the same but Craig Baird and Tony Longhurst are gone. In their place are returning young overseas racers, Marcos Ambrose and David Besnard.

Two years ago Ambrose was the dominant force in European Formula Ford, but had a much tougher time of it in an underfunded Formula 3 ride last year. He stunned all with pole position at Albert Park, but his wild driving during the races would seem to indicate there's still bit of polishing left to go to on this gemstone. Having said that, it's easier to teach a fast driver to be smooth then teach a smooth driver to be fast.

David Besnard joined the Konica series for the final six races last year returning after a frustrating couple of half seasons in Formula Atlantic and GT3 Sportscars. He won four of the six races, including defeating Wayne Wakefield at Lakeside in an unbelievably hard fought race. He was fast in the enduros and could have watched them engraving his name on the Bathurst trophy until a last hour accident with Longhurst at the wheel. Last year these Fords weren't worth watching. How times have changed.

They drove the race of their lives just four months ago, but that's ancient history for Garth Tander, Jason Bargwanna and the Garry Rogers Motorsport team. GT in particular knows from last year there's only one rung on the V8 ladder to improve on last year, and lots of rungs below.

They've hit the ground running with everyone having been warmed up running Leanne Ferrier in the Konica races, but can the still relatively small team keep up now that it seems the Ford teams have moved the goalposts? A team to keep an eye on.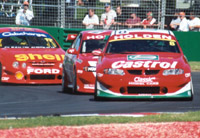 Red Mist: Ingall leads Bright and Johnson at Albert Park. Pic: Michael Shaw


Last year the Castrol team lost their way. The legendary ability of Larry Perkins to build fast, capable and bulletproof cars was sorely tested,and even the occasional engine failure occurred, something almost unheard of in a Perkins team. The team returns as it did last year, with 'The Enforcer' Russell Ingall, Larry Perkins and a customer car for Dugal McDougall. Gone are the diverse silver and black identities in favour of a more corporate Castrol red and green. Already Ingall has shown improved pace at Albert Park. Beware of the Castrol side of the force.

The winningest team of the V8Supercar era has been quiet in recent years, having the limelight taken by HRT, and then the leading Ford team title taken by it's existence long rival DJR. But Ford Tickford Racing is back on the money. The pace of Glenn Seton at Albert Park was spot on, challenging for podium honours throughout the weekend. But the good news was new team mate Steven Richards was even faster. Richards has settled immediately in the Tickford team and already shown his worth. A return to the halcyon Peter Jackson days for the Seton run outfit? Something that would surely benefit all.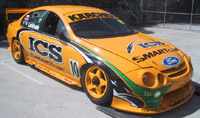 Larko's new look: The #10 is likely to lead the single car pack in 2001


And then there is the plethora of single car outfits that are damn close to the money. Mark Larkham has a new sponsor in ICS and his speed has never been in doubt. Other Fords to watch include Paul Weel, who took a big step forward in competitiveness last year, Cameron McLean, finally in his own car rather than using ex-Weel or Johnson cars, Steven Ellery, who won a race at Sandown last year in the ever improving Super Cheap team, and of course the man in black, John Bowe's Caterpillar outfit.

There's also John Faulkner's Holden to watch out for, rumours of a sponsor could bring Faulkner back to the front of the pack quickly. Cameron McConville leading a reborn Lansvale Racing Team, reducing those two ever young panelbeaters, Trevor Ashby and Steve Reed to a secondary role. A team no longer content to be the best privateer team, LRT has built their own cars again after many years of ex-Gardner cars.

The ever loud, visually and orally Big Kev team with Paul Morris is not to be discounted either, having never been far from the spotlight last year, although that wasn't always because of their on track ability. Tony Longhurst leading a Rod Nash Racing team could spring the occasional surprise, none the least of which is the sight of Longhurst in a Holden for the first time since 1994.

This will be the most interesting season in years. In the words of Murray Walker, "Red lights... GOOOOO!"