Judge Bond: Mr Versatile teaching V8 stars all he knows
Brett Jurmann

As a prolific former champion of the racetrack, Colin Bond has been there and done that. So few are more qualified to judge the behaviour of a new generation of V8 Supercar racing heroes, as Brett Jurmann writes.


Most fans will recognise Colin Bond, the stout man who sits in the sport's lofty ivory tower each race weekend, refereeing the heated V8 Supercar battle as AVESCO's Driving Standards' Observer. What the younger followers may not know is Bond was once himself at the other end of a stewards' call, a national champion both on the circuits and in the forests around the nation.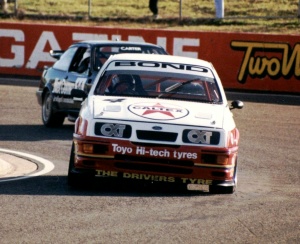 Colin Bond in a Ford Sierra at Oran Park


With his roots in Sydney, Bond first took to the track in the early 1960s, racing an Austin Healey 'Bugeye' Sprite in motorkhanas and sprints around New South Wales. But it was on dirt that he first made his mark, tackling the gruelling Ampol Round Australia Trial with George Shepheard in a 1200 VW Beetle in 1964. Later that year, he purchased a Lynx Peugeot open-wheeler, which he drove to the first of three successive NSW Hillclimb championships in 1965.

The Bond budget barely stretched, but somehow his travelling racing show managed to criss-cross the countryside. As his reputation grew, he made his first Bathurst start in the Armstrong 500 of '65, sharing an Isuzu Bellet with Arthur Treloar.

By 1968, Bond was concentrating on rallying. After a number of starts he caught the eye of Ford's legendary Harry Firth, who considered him for his works attempt on the London to Sydney Marathon in the same year. While campaigning Colts and Bellets in rallying, Bond expanded his racing interests off the track, establishing a rollbar manufacturing business.

Then came the break of his career. Firth was now launching the Holden Dealer Team on the touring car circuit in 1969, and offered Bond a drive at the Sandown three-hour race. Rally commitments prevented him from accepting the offer, but he later teamed with Tony Roberts to win his first Bathurst classic for Firth, the Hardie Ferodo 500. The pair also collected the Surfers Paradise 12-hour trophy later that year.

While campaigning the Monaro in rallying, Bond upgraded to Holden's Torana for the 1970 touring car championship. The more nimble XU-1 was immediately successful at tight circuits like Warwick Farm and Oran Park, but lost out to Allan Moffat's powerful Falcon at Sandown and Bathurst.

With ubiquitous ability, Bond dominated Australian rallying in 1971 – securing the Australian Rally Championship, Southern Cross Rally and Dulux Rally trifecta – before returning to the touring car circuit to win the Sandown endurance classic.

And then came Peter Brock. The now-King of the Mountain won his first of nine Bathurst titles in 1972, and for the next few years would overshadow the achievements of his teammate, Bond.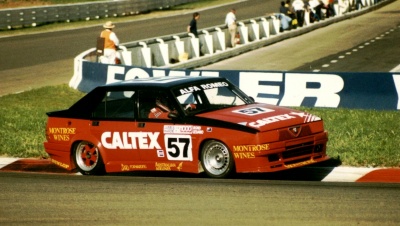 Bond driving out of Bathurst's Hell Corner in his Caltex-backed Alfa Romeo


Not until Brock left HDT in 1975 did Bond regain his leadership position in the team. Given the opportunity, he proved his mettle by taking out the Australian Touring Car Championship in the L34 Torana at his first attempt in 1975, and in '76 was robbed of a second Bathurst victory, along with co-driver John Harvey, by a lap count mistake. Bob Morris and John Fitzpatrick were declared the winners of the race, even though HDT's lap charts showed their pair had won.

After eights years with HDT, Bond defected to Ford, accepting an offer to join Allan Moffat's Falcon team in 1977. It was a year of total domination; highlighted by the infamous Moffat-orchestrated Bathurst 1-2 that could so easily have been another Great Race victory for Bond.

Ford also grasped the opportunity to get Bond to lead their rally team, a deal that even outlasted the partnership with Moffat. Bond managed to establish Ford's Escort as a genuine contender on the Australian rally scene, and gave Greg Carr his chance on the world stage.

His Ford association continued through 1980, when Jim Masterton established a Capri touring car team for his son and Bond – an association that saw the veteran finish third in the ATCC. He returned to Bathurst in 1982 aboard Kevin Bartlett's Channel Nine-backed Camaro, and the following year sharing a Commodore with Alan Grice, all while taking on various sports car and rallying series.

1984 was to be the last year of Group C tourers, so organisers of the long distance races included a Group A class, in preparation for the following season. Bond did a deal with Alfa Romeo Australia and obtained an ex-Luigi Racing 2.5 litre GTV, which he shared with Alfredo Costanzo at Bathurst. The Alfa had raced in Europe for several years, and with backing from the Ignis electrical company, Bond returned to the national series in 1985. While he gave the bigger cars something to worry about, by '86 the Alfa was outpaced by the Ford Sierras and BMWs.

If you can't beat them join them: Bond got a Sierra of his own, and in 1988 finished third at Bathurst with Alan Jones. By 1990 he was battling for the championship once more; superb car control netting wins at Lakeside and Mallala, eventually finishing the series in fourth.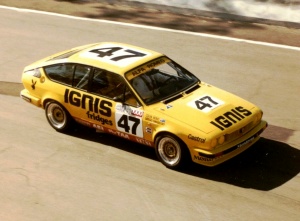 Another Bathurst assault, in the Ignis Alfa


While the V8 Supercar formula was being formulated in 1993, Bond switched to the two-litre Super Touring championship, forming an alliance with John Smith to race a Toyota Corolla under the familiar Caltex banner. He finished third in that series, but the category was poorly supported and the team fizzled.

Announcing his retirement that season, Fred Gibson managed to coax him back behind the wheel for a Bathurst swansong in 1994. But that was to be the end.

Throughout a three-decade-long career, Bond stood out as a master of car control, no matter what the machine. Perhaps only in Jim Richards has Australia seen a more prolific and versatile racer.

So when the current crop of V8 drivers push the limits of driving standards, there's a fair chance Judge Bond knows who's zooming who.