Chance of a Lifetime Racing
Brett Jurmann

Few will ever get the chance of being strapped into a V8 Supercar and hurtled down the main straight at Eastern Creek Raceway at more than 250km/hr. But one very deserving V8 Supercar fan did, writes Brett Jurmann.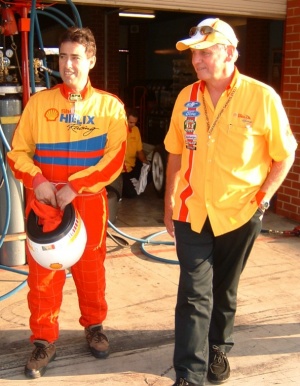 Last minute instructions from Dick Johnson

One member of the Conrod.com.au forum community had a very special experience at the Eastern Creek V8 Supercar round recently. Let's just call him 'Tony'.

A long-time Dick Johnson Racing fan, Tony has a form of cancer. His chances of long-term survival are slim. His wife has recently been laid up in hospital with a long-term illness of her own. If ever there was a race fan that needed a pick-me-up, this is the guy.

Enter stage left – Shelly Ives. Shelly is a familiar face around the V8 Supercar paddock, our own Undercover Angel with the charm – and contacts' list – to come to the rescue with a prized ride in the DJR Falcon Supercar.

His friends could barely contain their excitement as they led an unsuspecting Tony to the DJR garage for the jaw-dropping surprise.

And boy, was he surprised.

First, the race makeover, whisked into the transporter by DJR's media guru Dave Harding for a race suit fitting, helmet, quick chat with driving ace Max Wilson, and guided tour of the inner sanctum that is the race garage.

A nervous wait ensued while the car was fitted with a passenger race seat (warmed first by television personality Rebecca Wilson). A few reassuring words from Dick Johnson, and then it was Tony's turn, strapped into $400,000 worth of race machinery alongside driver Steven Johnson for the ride of his life.



Tony gets strapped in tight to the Shell Helix Falcon

As the car bellowed off down pitlane, he entered a domain only drivers and a few lucky passengers get to go. This is no armchair television ride. It's hard to appreciate the sheer violence of what goes on. Devoid of insulation, the cars are hard, noisy and hot. The engine howls, the gearbox bangs, the brakes throw you forward into the belts. With the added weight of a helmet, your head rolls from side to side, struggling to fight the cornering forces.

Johnson let loose with two hot laps, before bringing his passenger, quite literally, back to earth.

Climbing from the car, Tony had the look of a woman who has just given birth: hair matted and sweaty, wearing a combined expression of physical exhaustion and mental ecstasy. The adrenalin-charged high lasted all day.

And for those close to Tony who have shared his journey, seeing the broad smile across his face was enough.

As well as Shelly, special moments like this can't happen without the generosity of teams like DJR and AVESCO.

Tony thanks you.