Jase the ace with pace: Jason Richards interview
Michael Shaw

The people of Adelaide have a new racing hero - and he's a Kiwi. Conrod.com.au Managing Editor Michael Shaw spoke with Team Dynamik's Jason Richards at Oran Park.


Michael Shaw: Did you expect the team to be doing so well so soon?

Jason Richards: As a team the one thing we have struggled with is getting two cars in the top ten together. We can normally get one in, and mostly this year it's been Simon's, but quite often if I can get in there Simon's had a problem or some issues. I think we're maturing a little bit as a team and we've found a few things with my car so we're able to get the two cars in the top ten now. It's still bloody hard work. The championship is so close.

The team puts in so much hard work. The guys eat, sleep and drink it. They don't leave and they're very committed to the cause. If you get a group of people around you like that... We're very much a results-focused team. Kieran's [boss Kieran Wills] got some major philosophies. He's a 'can do' - we can do whatever we want to do. And I guess not all the teams in pit lane have that and that's why we've been successful so early.



Team Dynamik's Jason Richards
Pic: Team Dynamik

MS: Do you think it was the right decision to build new cars instead of purchasing someone else's used cars?

JR: We were hoping to have our third car ready for this weekend. We're a fair way down the track to a third VY, full Blueprint model, and most teams are still pulling out their first one.

MS: HRT haven't even done that yet...

JR: That shows you the level of 'can do'. They are serious. They want to be the best. And nothing's going to stop them. They're here to win motor races.

You have to get the right people. Time was a big factor. Supply of parts for the engine was a major hurdle for us. But we're on our second or third developments of our engine program and most people are on their first. So we've got a head start. I think it's definitely the right way. It's a ballsy decision because you're building something from brand new. OK, you've got experienced people, so that's half the battle. [But] it's still a very ballsy move to come out and do it from first up and I think the results speak for themselves. Some of the blokes did some 120 hours in one week. We're talking serious numbers here. So that's the sort of commitment they did before Clipsal.

MS: What have you learnt that you've put into the third car?

JR: A bit of the bar work's different. The roll cage, Oscar [team director Oscar Fiorinotto] designed it and got a lot more stiffness out of it, which is going to help. We've refined a few things. It's an evolution, it's not a revolution.

MS: How much help is having someone like Oscar?

JR: It's been a great help. He's been in and around the early days with Russell Ingall at Castrol and obviously at [Fred] Gibson's with Steven [Richards] and Greg [Murphy] and recently with Craig [Lowndes] and Neil Crompton. So he's seen a lot of different driving styles on these cars and refined it with what you need to get the cars to go faster. They're unique. Even when the Europeans come out, they struggle to grasp the concept of driving these cars fast. It's different to a single-seater or sports car or F1 car or whatever it is. He's certainly been an aid there. And obviously he's very talented with the data and set-up wise.

We're actually running with a few inexperienced people as well - guys from Adelaide. Young guys. The number one and sort of the number two on Simon's car now are both 21 [years old]. Our workshop manager is only 31; both my guys are 31. So quite a young team. We're trying to train up local talent. It's hard to get experienced people to change their ways. Enthusiasm's a big part of this sport and commitment and passion - all of those key words that you've heard. But realistically we need a winning spirit and that's what we're trying to generate with this team.

MS: How much support are you getting from the people of Adelaide?

JR: Rather than going for the sponsorship side of things, which obviously would be handy to have, we're developing Team Dynamik as a brand and an image in its own right. We're setting up a very exclusive club, which is a reasonable amount of money to join but there's some major benefits with it. Virtually we're giving away 600 hot laps a year, so you're almost guaranteed a hot lap. There's going to be two cars to give away - the SS Dynamik Commodores. So we're going to utilise that as one way to fund the team. We're having monthly club nights and making it a family sort of event on a regular basis. So it's a totally different philosophy to the other teams down pit lane.

The support in Adelaide has been awesome. Adelaide's very passionate about their sports teams and obviously with motor racing with the success of the Clipsal 500. If I'm in a shop or whatever, buying something, everybody always says what a good job Team Dynamik's doing, they're proud to support us.

MS: How do you think the success you're having this year will help with sponsorship? Even with a good club, it's still required.

JR: Oh yeah, definitely. We've always got sponsorship negotiations on the go. We're not rushing into it, we want to have a long-term business partner. Obviously motor racing at this level is extremely expensive and gives very good marketing opportunities and we're not prepared to undersell what we've got. And some of the things at the level we're looking at require a little bit of experience and proof that we're able to do the job.

MS: What were the team's expectations for this year?

JR: Our goal was to run in the top ten with two cars. But we've had some outstanding performances, especially with Simon's car. For us to come out in the first year and beat Stone Brothers and HRT is unrealistic but if we can hold onto that third-best performing team... Obviously our race results haven't indicated that, but in this category it's much better to have speed and potential and just fix up the little problems that a new team has than be slow and no problems. If you can't find the speed, especially in qualifying, it makes it a very hard day on race day.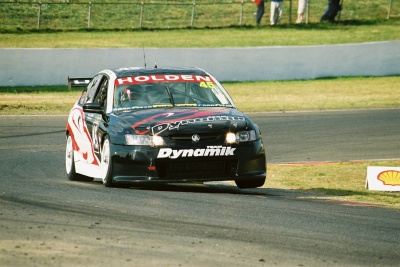 Richards in action at Oran Park
Pic: Michael Shaw

MS: How have you been getting on with your teammate, Simon?

JR: Good. We do a lot of social things, like tennis. Our team has an indoor soccer team [and] tennis tournaments. We do team building. It's very important in this game. There is no time in qualifying, practice, whatever, and we need to be able to almost communicate without speaking. What you can do on the rugby field, soccer field, or tennis court. And that's sort of one of the things we're aiming for. Simon and I work out virtually every gym session together, rarely do we go on our own. And we help push each other and we're both competitive so we help push each other at the track, push each other at the tennis.

MS: When you started in V8 Supercars you were with Team Kiwi. How has that helped or hindered your move to Team Dynamik?

JR: I think everything you do in life helps if you're learning from it and prepared to learn from it. I got some good experience. We had different types of restraints on us at Team Kiwi, obviously most of it was financial and our ability, our resources and our infrastructure weren't up there to achieve much, so we had to maximise everything we had. Even the old cars, which are Lansvale's and Team Kiwi's, can quite often be up there because they've got a very good, refined package.

MS: How do you think the team will go at Bathurst, and for the rest of the championship?

JR: I reckon Simon and I have a bloody good chance at Bathurst. The car has generally been getting better and better and better in the races. The shock package Oscar's got is really good. One of his real strengths is his shock absorbers. So long distance races I'm feeling quite happy. [Engine builder] Alan Draper's got an immaculate record at Bathurst with engines especially. So our engine performance is strong, reliability's been really good, Simon had the lap record there a couple of years ago and I generally go really well at Bathurst as well relative to other circuits. We've driven here before, we've got experience, things are starting to gel a lot better, the team's getting on top of everything - I reckon it's good, it's an exciting future.

MS: And what about your new teammates, Nicolas Minasian and Jan Magnussen?

JR: They're exciting as well. The first time they've used an 'H'-pattern gearbox in...well I don't think they ever have, except in a road car. They're racing over in Europe and everything's paddles and sequential these days. It's challenging and the problem is that it almost gets the better of you as you're concentrating so much on it. But what they bring is that they're going to be exceptionally fast. Jan Magnussen was actually a karting hero of mine, and I raced actually at Oran Park here and he raced here as well. I was in the juniors and he was in the seniors. It was his first race meeting in the seniors and he was the class of the field. So it's quite freaky, actually.

MS: Where to from here? Not just next year but after that, do you want to stay with Team Dynamik?

JR: Definitely. I've got a two-year contract anyway, but I think with the fundamentals and the philosophy that Kieran's got with this team, that I want to be here for a long time. I think Team Dynamik is very exciting. They're a very good team of people. We've got who we think are the best involved and it's nice being in Adelaide, too.