Tensions rise as pit stops prove telling
Jason Whittaker

Ever heard of David McDermott? How about Lucas Docking? Steve Macdonald? Chances are, you haven't. Yet they could very well decide this year's Shell Championship Series.

They're all part of the Holden Racing Team's crack pit stop squad. Widely regarded as the best in the business, they posses the speed and precision required to get their man back on track quicker than anyone else. But never has the strain been so great.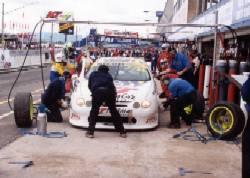 Stopping on the marks is just one of the challenges for the driver during the pitstop. Would you like to be the guy at the front of the car at this point?
Pic: Michael Shaw
In 2001, you can almost feel the intensity walking down pitlane. By popular demand, this year sees compulsory pit stops at every round contested (except for Barbagallo and Calder). And already it has proved telling.
A fumbled wheel nut can cost valuable seconds in pitlane, a number of positions on the track, and ultimately, the difference between winning and losing. When not much more than a second separates the top 20 drivers in qualifying, the difference between a good stop and a great one is a championship-deciding country mile.
"Pit stops without a driver change is more like Formula 1 and Champ cars," new Ford gun Craig Lowndes explains, "it puts the emphasis on the driver and the team working together and overcoming any difficulties."
Stone Brothers racer, Marcos Ambrose, agrees: "There really is now three elements to the weekend; qualifying, actual racing and quick pit stops."
"Picking the best time to come in, as well as the stop itself, is critical and each race will require a different strategy. The pit stop strategy puts a great deal of pressure on the crews, because a second gained in the pits could add up to quite a few places on the track."
Critical, indeed. On the circuit a driver can only hope to gain tenths of a second each lap. In pitlane, there are multiple seconds to be had. Passing someone with a sharp stop is far less painful than muscling past them on the circuit.
It all begins with the call. It's the split-second decision by the Team Manager to bring his car in that will make or break the race. If the driver returns to the circuit amidst a logjam of traffic, or if the stop is left too late or taken too early, the results can be dire.
Tyre conservation and fuel consumption are important factors. In these 100km semi-enduros, how long do you remain on the same rubber, given that tyre freshness is so critical towards the end of a race? And do you start with a weighty fuel tank and refuel late, or take on a lighter load to make the best of the opening laps?
The role of the safety car can not be underestimated. Manipulating yellow flag periods is the key to success.
Jason Bright is well aware of that. Finding himself well back in the pack after two unplanned pit stops during Sunday's Clipsal 500 race, HRT boss Jeff Grech and his astute number crunches nailed two immaculately-timed mandatory stops to put Bright back in contention. He went on to win comfortably.
Meanwhile up front, Gibson Motorsport failed to exploit the numerous safety car periods for Craig Lowndes. Sometimes leading the race can be a disadvantage, as Lowndes explains: "It's more difficult to capitalise on the safety cars when you're the lead car. Consequently we weren't able to make the opportunistic pits (stops) that others did, and that really came against us."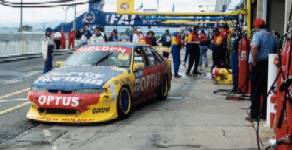 Go! The Lansvale crew complete a swift service
Pic: Michael Shaw


Of course, the pit lane is closed to mandatory stops once the safety car makes an appearance. Clever teams wait with baited breath for an incident that is likely to require the safety car, before dragging their cars in with seconds to spare. It's an inaccurate science, and one where the strakes are high.

Diving into pitlane (much to the alarm, often, of those tailing) each driver must adhere to the frustratingly-slow 60 kilometers per hour pitlane speed limit. It's an important safety measure, but can seem tedious at the best of times.

Without speed limiters (to the dismay of most) drivers idle around the 60km/hr mark until they reach their pit bay. But the system can be abused. Sit just over 60, a couple of kilometres will do, and you can avoid a race-destroying stop/go penalty while gaining valuable seconds. It makes the argument for mandatory pitlane speed regulators an increasingly compelling one.

Squeezing into the cramped pit bay (especially claustrophobic for single-car teams), the real action begins. It's a flurry of controlled chaos as tyres are replaced and/or fuel pumped in. A good crew (six allowed per car) changes four tyres in less than a dozen seconds, refuelling a little longer. At most events, each must be done in separate stops.

Getting a gig in a top V8 Supercar crew can be just as competitive as earning a drive in one. The Holden Racing Team chose their A-Team after hours of exhaustive practice sessions. While each has other roles within the operation, hours more are spent honing their skills before each race. One mistake and they could find themselves relegated to water bottle duty quick smart.

Their sister team, K-Mart Racing, has a secret weapon in crew member Kevin King - a bio-mechanics graduate. King can change a tyre in just 7.9 seconds with, he says, his knowledge of using ones body more effectively. All academic? Not with so much at stake.

The equipment is all state-of-the-art, some more so than others. Many teams went on expensive shopping sprees before Phillip Island to purchase the latest in quick-draw rattle guns, costing many thousands of dollars each. Others didn't, which makes the differentials along pitlane quite marked.

With all hands raised, their work is done. Ripping off the coloured Velcro strip from the back window (failure to do so will result in another visit to pitlane) the car screams into the 'fast lane' to depart.

Track position on re-entry is crucial, as drivers battle with stone-cold tyres on the hairy post-pits first lap. Watching a driver bring his tyres up to temperature while in the heat of battle is a spectacle in itself.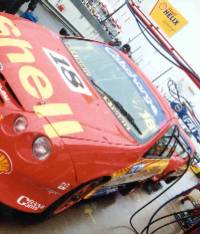 Look up and live: A V8Supercar rear wing is designed perfectly for catching hoses and dragging attached overhead gantry down pitlane.
Pic: Michael Shaw

When 32 cars all engage in this frenetic activity within a handful of laps, it makes for a fairly dangerous piece of bitumen. Already we've seen a crew member injured when John Faulkner brought down a couple of overhead gantries in Adelaide. Freak accidents such as that only compound the danger, where stray equipment, merging traffic and the ever-present threat of fire cloud pitlane. Can all of Australia's racetrack facilities handle the pressure? Only time will tell.

AVESCO's vision for this season was that the introduction of pit stops would electrify the often-stale sprint race events. Generally, it works. Winning and having the fastest car/best driver are not necessarily mutually exclusive any more. The 'human element' of pit stops makes this a deceptive team game, where slick stops, smart strategy and good luck will compensate for a car left wanting in the outright speed department.

There is an argument against. The teams with the fastest cars are generally the ones that get it right in pitlane. And at Phillip Island, the vast difference between pit stop times only served to pronounce the gaps on track.

Perhaps more importantly, the formats look, and are, manufactured. They are staged. Teams are told they have to stop, they're told when to stop, and they're told what to do when they stop. It can appear a little contrived.

But as Glenn Seton states: "For spectators it adds a great element to the racing, where the winner will be the best team and not just the best driver."

You can't argue with that.

Mind you, you wouldn't want to be the man at Sandown who botches a tyre change and costs Mark Skaife the championship.