Triple Eight: Engineering The Future
Danielle Schwerin



You could hardly have called it an invasion when Tom Walkinshaw Racing (TWR) came 'down under' in 1988; after all they weren't the first internationals to race here. But, until recently, they remained the solitary regular European contribution.

Season 2003, however, saw two more major international players enter the V8Supercar scene. Prodrive joined Australia's premier category in late December 2003 with the incarnation of Ford's new factory backed team, Ford Performance Racing (FPR). And the latest of the imports is the Triple Eight Engineering squad, fresh out of the UK, having joined the field in September last year for the start of the endurance season.

Triple Eight have an enviable reputation in the British Touring Car Championship (BTCC), having won the Manufacturers, Team and Drivers Championships for the third successive year in 2003.

Formed in 1996, as a partnership between Roland Dane, Ian Harrison, and Derek Warwick, Triple Eight Race Engineering's UK operations situated itself near Silverstone and now employs over 40 individuals. Dane, who has over 20 years experience in the motorsport industry, has been accredited with maintaining the longest team/manufacturer relationship in UK motorsport. Warwick has had a long motorsport career as a driver, including 147 Formula 1 Grand Prix, Sports Cars with Jaguar and winning the 1992 Le Mans 24 Hour, finally retiring from racing in 1998. 2001 saw Ian Harrison take sole ownership of the team from his partners, who kept strong links to the team in an advisory capacity.

In partnership with General Motors (GM) operation, Vauxhall Motors Limited, the team originally ran Vectra's. In 2001, Triple Eight and Vauxhall embarked on a development program for the then new Astra coupe. Instant success befell the organisation, seeing them win 25 of the 26 races that year, taking the triple crown of the Manufacturers, Team and Drivers Championships. Success led to expansion, with the inception of a customer assistance program that sees the team engineering and building vehicles for other entrants in the BTCC and in Sweden.

Having dominated at home, Roland Dane and Derek Warwick decided to team together with Ludovic Lacroix and Peter Butterly to become involved in the Australian V8 Supercar Championship, often considered the 'world's most competitive touring car series.' Triple Eight UK's Chief Engineer, Lacroix, is considered indisputably the most successful touring car engineer in the world today. Butterly, a business advisor to Triple Eight in the UK, while maintaining strong interests overseas, now spends much of his year living on Queensland's Gold Coast. The opportunity to join the V8 series arose in mid 2003, with the demise of Queenslander John Briggs involvement in the sport, and the subsequent sale of his Brisbane-based team, operation centre and Level 1 category license.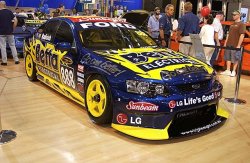 Questions arose as to the future of the new Australian entity, due to such strong ties between GM and Triple Eight's European operations. Would the team ultimately end up working with the Australian GM operation, Holden? Triple Eight Co-Director Roland Dane commented, "Triple Eight Race Engineering UK's association with GM through its Vauxhall division held no bearing on which manufacturer Triple Eight Race Engineering Australia would align itself with here. Sure we had talks with Holden, but in the end we felt that Ford offered the team the best chance to put together a very competitive package in order to set about to win the V8 Supercar championship."

Ford appears happy to welcome the new addition to its squad, having announced the signing of a deal at Eastern Creek's final round of the 2003 championship, that guarantees the team will run Falcons through to the end of 2008. "Triple Eight Race Engineering has an impressive record in European racing and we're confident that they're going to bring that same dedication to the Australian V8 Supercar Championship Series," said Stephen Kruk, Ford Australia Motorsport Operations Manager.

Through their partnership with Ford, the team is actively chasing a competitive package. Their mission in this tightly contested series is to be nothing short of the best - winning races and championships along the way. Former Stone Brothers Racing chief engineer, Campbell Little, is an important part of that plan, having been brought in as team manager for the start of the 2004 season.

"We are very serious about winning and this is the reason we have gathered together what is arguably the best personnel in order to achieve this goal," said Dane. "Campbell Little is possibly the most respected Technical Operations Manager currently involved in the V8 Supercar Series. It is for this very reason we chose Campbell to join us in our endeavours to win the championship."

Picked to aid the team in building the right package to meet its goals, were drivers Paul Radisich and Max Wilson. Radisich is retained from last season having been with the former Briggs operation since January 2003 where he replaced Wilson in an effective driver swap with Dick Johnson Racing (DJR). He is an established driver who has been with the series since his return from European racing in 1999. Consistency throughout the season has been Radisich's trademark, and led to him finishing 10th in the 2003 championship.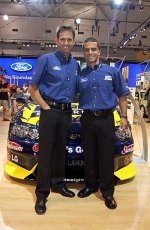 "We have great faith in the ability of Paul Radisich, a proven winner as two time world champion," said Dane. "We firmly believe, given a competitive race car, Paul will again prove his ability as he did in last year's championship by finishing the championship in 10th position with a somewhat less than competitive car."

After a year with DJR, Brazilian Max Wilson returns to the Team Betta Electrical operation that, under its previous owner, gave him his drive in the V8 Supercar series in 2002. The former Williams test and ChampCar driver is noted for his sheer pace and ability to qualify a car well up the grid. After a frustrating year, the 2003 season finished strongly for Wilson, earning his first podium of the year, finishing 3rd in Eastern Creek's final race. "[Wilson] shows both the ability and pace required to succeed within this championship," said Dane.

For their first full season, the team remains realistic by aiming to present two very competitive race cars, according to Dane. "We only acquired the team from Briggs Motorsport in September of last year, so time has always been against us in terms of building two brand new race cars to our own design for this 2004 season. The total outcome of our research and development program will not be realised until possibly midway through the season when the entire package is complete, so to say to you that we hope to win the championship this year would be quite wrong, however our cars will certainly be well up the grid with the leading cars until their total development program is completed."

Yet to become a proven thing in the V8 Supercar Series, Triple Eight Race Engineering has already proven itself to be a force. They have come out hard in their entry to the game, building some very strong foundations with which to achieve their goals. With the hard work always required of champions, combined with a little help from lady luck, success is considered a matter of time for this team. Though the true measure of success for this team can only be left to the judgment of time.