Indy Interview Series - Part 4 - John Bowe
Michael Shaw

It's been one of the toughest years on record for the Tasmainan driver. The low budget CAT racing team has struggled with bad luck, mechanical failures, and lack of testing. In this interview with Michael Shaw, Bowe talks about CAT racing, the future of V8Supercars in Tasmaina (or lack thereof), and Project Blueprint.




This is how much of a fully resourced car that CAT racing can afford. Only kidding, it's an internal view of the CAT Falcon, click the pic to see it full size.


Michael Shaw: So what was the biggest change when the team moved from Perth to John Briggs' outfit in Queensland?

John Bowe: The results I guess this year haven't been any better. I think in fact probably our results last year were better in some sense, but the team operates much better now, it's much more professional. What we've suffered from quite badly is a lack of budget, which probably half the teams in the paddock could say the same thing.

We don't have a big budget, even though we are supported by Caterpillar, which is a very large company worldwide, the budget for our racing comes from the Truck Engine department, which is not huge, and we get a bit of help from some other companies, and we certainly get some help from Ford. We have a phone company called B - clear and simple that help us, but the total amount is not enough to do what we want to do.

If it was, we'd have another car finished. We would have done a lot more testing, which we haven't done this year, we've done a minimal amount. Having said that, the team is very professional. There's just some new premises that have just been completed in Brisbane, that are quite state of the art, which are John Briggs Motorsport, where CAT racing will operate from. So we're hoping we'll be able to increase our budget for next year, and try and do a better job.

It's become so professional, that you have to have all the resources, otherwise you're not going to do any good.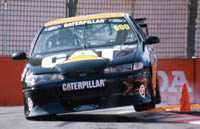 Pic: Michael Shaw


MS: Is the team looking to expand to two cars in the next couple of years?

JB: We would like to expand to two cars, because it makes things a lot more rational. You get twice as much testing for a start, you can amortise the cost to a large degree. But if you haven't got enough budget to run one, you certainly haven't got enough budget to run two.

MS: What do you think of the championship format next year with the longer races?

JB: I haven't actually looked at it that closely, but I'm in agreement with it in principle, because I've always felt the three race format favours the front row of the grid, and it encourages rip, tear, bust, crash and burn style driving, which I don't think is really what motorsport's about. I think it's a good idea, and I think it's a good idea to involve the team much more in the tactics and pitstops and things, but having said that, it'll still be the teams that are best funded, and the most professional, that do the best job.



"...this is not just politicing, shouting and screaming, which is a very good part of what the Holden teams do. I think the idea of Project Blueprint, and the intent is very good, but at the moment, it hasn't done a thing. "

MS: How much will it affect cost, especially for teams such as yourself who don't have a huge budget?

JB: I'm not an accountant, but I would expect it would go up. I reckon the cost of doing business will be more next year. That's the problem, it's the success of the category, which is really quite staggering, drives the price higher. If you take it to it's ultimate level, Formula One is a classic example, isn't it? It's so expensive.

MS: The 32 car grids, is that a good thing/bad thing, especially with back markers?

JB: It's a good thing in the sense that the tracks won't handle any more than 32 cars. Some of them are very marginal at that I think. But there are some tracks that'll handle more. I think what we had this year, when sometimes we started 40 cars on a track that would take 40 cars is probably more sensible. But, if you get a 32 car grid of quality cars all the time, I suppose as a show, it's not a bad show.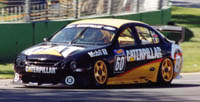 Pic: Mark Alan Jones


MS: Are you looking at possibly a Lites car, since that would run on a smaller budget?

JB: It's a possibility. The facility that John Briggs has built in Brisbane, is capable of running three or four cars. It's all down to money, it's all down to budget. This EL I'm driving, with some upgrades, would be a really good Lites car. We certainly don't have the budget to put into a Lites car, so we need some more money for a Lites car. If there are other drivers out there with some form of funding, obviously we'd like to talk to them.

MS: What do you think of the championship expanding overseas to New Zealand, and it looks like Asia the year after?

JB: I don't think that's such a bad thing. The Asian market is I guess close to Australia. I've raced in New Zealand before. New Zealand's just like a state of Australia really isn't it? Most of their people are out here. (laughs)

MS: Speaking of states in Australia, would you like to see a round in Tasmania again?

JB: Well of course I would. Anybody that's born and bred in Tasmania, were quite distressed when it left. But it left for a reason, it left because the facility wasn't up to standard, and the facility's still not up to standard. Really we only have one group to blame for it, and I guess to a large degree sits on the table of the Tasmanian Government, because they just ignored the fact that it was likely to disappear.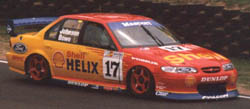 Pic: Mark Alan Jones


So to get it back, Tasmania would have to commit a very large amount of money to upgrade the facility. Whether that happens or not, I don't know. But it is a shame for motorsport in Tasmania, because it has produced some good drivers, and there are quite enthusiastic people there. Per head of population, we probably had the best crowds ever, of anywhere around the country.

MS: Is there anything you can do to help get it back?

JB: No, Not really. I threw my two bob's worth in at the time, but we have a Labor Government down there, and Labor Government's are useless as far as I'm concerned.

MS: Looking forward to the one race remaining at Bathurst, what are your prospects alongside Jim Richards?

JB: I think our prospects are reasonable. Other than Holden Racing Team, DJR Shell Team, I reckon they are the only two teams in the competition that could say their prospects are 'very good'. Everybody else - their prospects are reasonable. (Some) more reasonable than others perhaps. You'd have to say that Larry and Russell are always strong there, so they would be again, but they don't have the facilities, nobody has the facilities and the backing that probably DJR have, and HRT even to a greater degree have.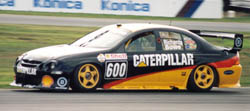 Pic: Mark Alan Jones


I go up there with some positive thoughts. I like the track. Jimmy's a great driver. The team does work well together, and we will do a reasonable job. But whether that means at the end of the day we come tenth or come first, who knows? You can do a good job and come tenth.

MS: In general, how has this year's championship gone for you? Has it lived up to your expectations of performance?

JB: No, definitely not. Very depressing, really. It's probably the worst, the hardest I've had ever, since I've entered the Touring Car championship a long time ago. Early in the piece we had some car problems, some unreliability problems, we had some bad luck, I've made a few blues in terms of desperation. So it hasn't been a good year, no.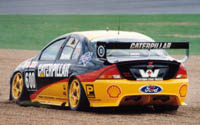 Pic: Mark Alan Jones


But we have shown flashes of, I wouldn't use the term brilliance, but we've shown flashes of speed, and sometimes consistency. We've had a problem with the car being very hard on it's rear tyres, which is a problem, and we're still trying to get to grips with it. Until we get a new car, we may not be able to fix it. It's been frustrating, but motorracing's full of frustration, I've been in it long enough to understand that.

MS: One final question about Project Blueprint, has it worked? Has it helped the competition?

JB: Well, has it started yet?

MS: Well, the front undertray was the start...

JB: The front undertray did absoultely nothing. There's many more issues than the front undertray. The front undertray did nothing. Very recently, TEGA and AVESCO conducted some tests on a Falcon and a Holden racing versions to measure, scientifically, the amount of downforce on the cars. The Holden has, I think, this is off the top of my head, so it may be not quite accurate, but it's close, four times, at least four times the amount of front downforce the Falcon has.

MS: That's with the new (TEGA) undertray?

JB: With the new undertray

MS: That also with the 100mm cut off the Holden?

JB: With the 100mm cut of the Holden. It's basicially aerodynamics. The top part of the car also has an effect. The Falcon, because as a road car, it's so low drag, and so slippery, it affects the performance of the race car. In a road car, you want a nice slippery car; in a racecar you don't, you want downforce. Ford's are at a very big disadvantage, which hopefully Project Blueprint will address for next year.

This was factual stuff, this is not just politicing, shouting and screaming, which is a very good part of what the Holden teams do. I think the idea of Project Blueprint, and the intent is very good, but at the moment, it hasn't done a thing.

For instance, the track of the Holden, the front track is much, much wider than a Falcon. And it was just allowed to happen early in the piece when they were building those VTs, because they all grizzled so much, they couldn't fit the wheels under the guards, so they let them widen the guards. Now you're not allowed to widen the guards of a Falcon. 45 or 50mm narrower, that makes a huge difference. There's lots of things that need sorting out.

At the moment though, all you can do is get on with what you're doing. At least TEGA and AVESCO have the intent to fix it, and that's something that has never happened before.

Opinions expressed on v8sp10.nectar.com.au do not necessarily represent the opinions of the V8Supercar Pick 10 project or its contributors.